The Balkan route has been a notorious trail for smuggling drugs from east to west since the 1970s. But in 2015 it took on a new meaning as an estimated 1.5 million asylum seekers and migrants – triggered in part by the wars in Syria and Iraq – made their way through Turkey and Greece to the Western Balkans and on to western Europe.
Since the 2015 crisis, the Western Balkans have progressively become a hub for migrants trying to reach western Europe. Over the years, migrants have relied on local smugglers, increasingly attracting the attention of law enforcement authorities. For this reason, the migrant-smuggling business in the region has become more organized, with smugglers developing more sophisticated techniques.
This interactive tool offers an overview of the migrant-smuggling landscape in the Western Balkans drawing from the GI-TOC's Observatory of Illicit Economies in South-Eastern Europe's 2021 report  'Spot prices: Analyzing flows of people, drugs and money in the Western Balkans' and other ongoing studies in the region.
---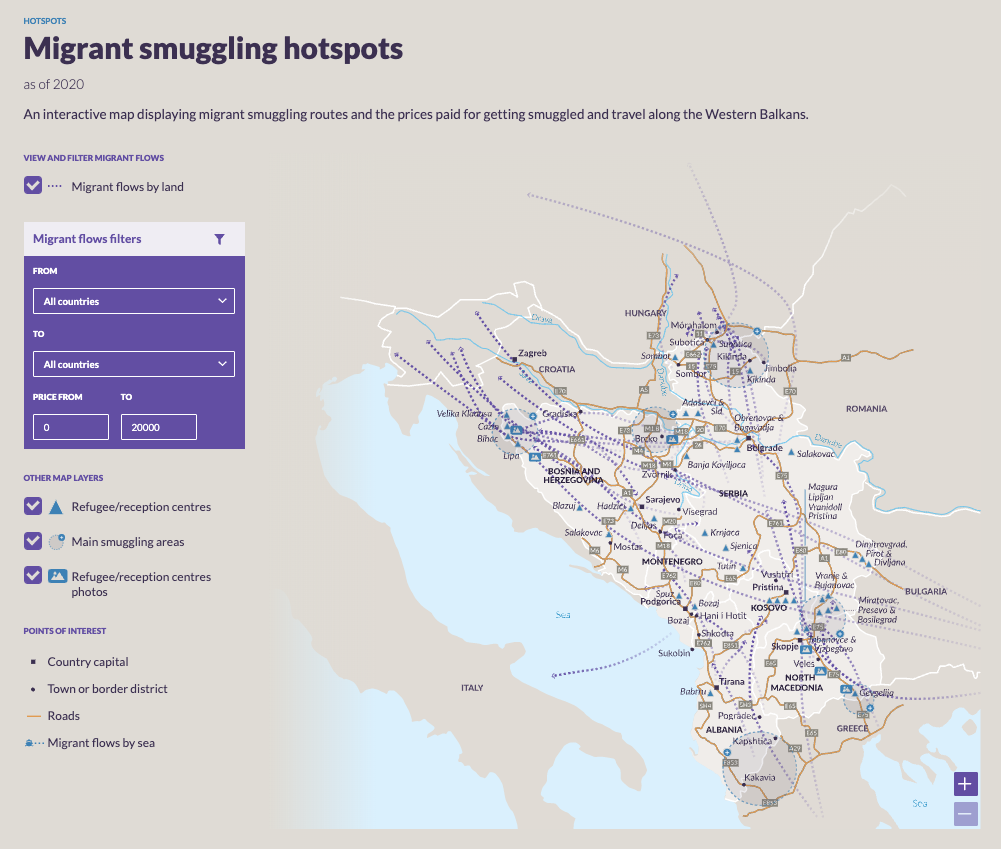 ---
The tool provides data on irregular border crossings on the Balkan route; the numbers and nationalities of migrants and asylum seekers, estimated profits of the migrant-smuggling market, and an interactive map displaying smuggling routes and the prices paid for each route.
With a user-friendly layout and periodical updates, the tool is accessible to the wider public, including civil society organizations, media outlets, analysts, students and law enforcement authorities. Users can share the whole tool and/or specific sections and graphs with their networks through their social media accounts.
This is the first of a series of interactive analytical tools created by the Observatory, which are designed to not only provide an alternative way to publish research findings but also to trigger analysis-supported dialogues, policies and awareness among all the stakeholders concerned.
---