When Chinese President Xi Jinping described the Belt and Road Initiative (BRI) as the 'project of the century', he might have sounded overly ambitious. The reality is that it is hard to find a project that can rival the scale and reach of Beijing's New Silk Road.
Countless articles have been written and discussions have been had on what is deemed to be a game changer in terms of connectivity among regions, volume of trade, and investments. But with its land and maritime economic corridors, roads, ports, railways, special economic zones, industrial parks, mines and pipelines, telecommunications networks and urban development projects, the BRI has also attracted the attention of criminal entrepreneurs at the national and transnational level.
A new opportunity for criminal exploitation
Countries participating in the BRI, and especially those featuring developing and emerging economies, are faced with a common dilemma linked to development projects. The likes of Myanmar, Vietnam, Mozambique and Tanzania, to mention only but a few, need to balance welcoming BRI investments to build infrastructure and increase prosperity with finding ways to shield themselves from the activities of criminals eager to exploit and infiltrate new infrastructural projects and put their hands on the extra cash injected into local economies.
Yet, criminal involvement is a little studied aspect of the BRI, both in policy and research circles. This is problematic: failing to acknowledge that development and trade create vulnerabilities in contexts where governance and regulatory capacity is weak, crime levels are high and illicit markets are well established opens up the risk of systematic criminal exploitation.
To help fill that gap, the GI-TOC's upcoming report 'China's New Silk Road: Navigating the organized crime risk' – the first mapping of the convergence between BRI infrastructure and criminal flows – takes a close look at existing and potential criminal vulnerabilities in South East Asia as well as central and eastern Africa and identifies areas where BRI projects coincide with trafficking routes for narcotics, illicit environmental commodities and people. The report is accompanied by an extensive data annex and an interactive digital tool mapping the BRI's criminal vulnerabilities and allowing users to visualize where and how specific infrastructural developments currently facilitate illicit trade or are likely to do so in the future.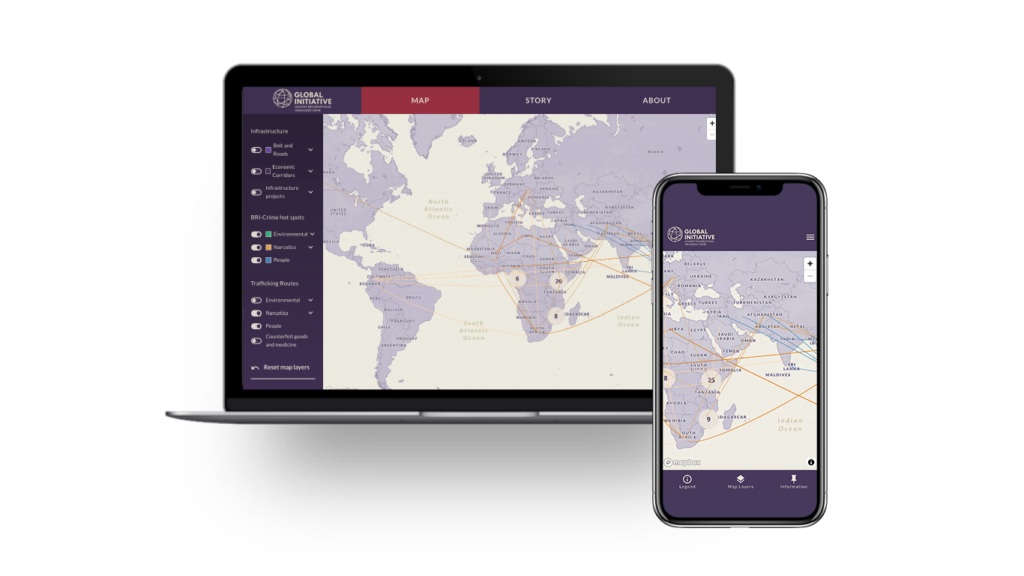 Vulnerable transit routes
One of the BRI's key economic networks – the China–Indochina corridor – overlaps with both existing economic routes and established trafficking routes and transit hubs. The key paths of the BRI correspond to and elongate transnational trafficking routes, with illicit goods blending in with the larger volume of trade. In areas where the BRI routes do not overlap with established trafficking routes, new transport infrastructure will link the Chinese market with new trading partners, amplifying the opportunities for illicit trade.
On the African continent, the combination of railway developments and port expansions is opening access to trading markets for landlocked countries and inland cities, many of which are also rich in natural resources and serve as trade sites for illicit commodities. BRI projects appear to overlap with – and in some cases extend – existing trafficking routes in the eastern, southern and central regions.
Increased connectivity provided by the BRI may afford organized crime networks new opportunities at a time when illicit trade is already expanding dramatically worldwide and criminal networks are seeking ever more favourable pathways for illicit trade. When BRI corridors, routes and trade hubs are studied in parallel with illicit trafficking routes and hotspots, it is impossible to miss the overlaps and convergences. Places such as China's Yunnan province and its capital city, Kunming; the special economic zone and port in Sihanoukville, Cambodia; and Kenya's maritime and railway hub in Mombasa are among the recurrent locations that are both BRI nodes and magnets for trafficking of various types of illicit commodities, as well as for financial crime and other criminal activities.
One of the New Silk Road's objectives is to encourage stability through economic development – a target directly undermined by the emergence and expansion of illicit markets and economies. As BRI projects progress, the ever-evolving picture of criminal infiltration must be closely monitored.
---
Subscribe to the GI-TOC Asia-Pacific Observatory mailing list to stay updated on our upcoming publications and initiatives.