Vietnam is known for its highly diverse tropical fauna and is considered to be a major hub for wildlife trafficking in South East Asia – and globally for certain highly trafficked species, such as rhinoceros and tigers. The country has a globalized, export-driven economy with extensive trade links and has been identified as a key node in the wildlife trafficking chain in previous research. Vietnamese networks abroad have been found to be involved in the poaching of at least 18 000 elephants, 111 000 pangolins and nearly 1 000 rhinoceroses since 2010. However, these investigations have led to only a few prosecutions.
Since 2018, Vietnamese authorities have strengthened their anti-wildlife-trade legislation. Nevertheless, current evidence suggests that trading in illegal wildlife continues despite travel restrictions imposed to tackle the COVID-19 pandemic. Over the last decade, reliable internet infrastructure provision and increased accessibility in Vietnam have enabled international networks of wildlife traders to reach a broadening, online customer base with their products. This report explores the landscape of Vietnam's online illegal wildlife trade (IWT) and the dynamic, changing relationship between physical-shop traders and online networks. The online IWT landscape uncovered during this study is cause for concern. The internet and social media are used at nearly every level of the supply chain, from rural hunters and sellers to urban manufacturers of finished products and their distributors. In contrast to other illicit markets, where the internet is used as a mean of obfuscation or to provide the cover of anonymity, online IWT, this report finds, often takes place openly. Moreover, online trading supports an apparently extensive physical, offline market. Meanwhile, social media are routinely used for brand-building purposes by wildlife traffickers, who engage on various platforms prolifically (Facebook in particular) to share information about their activities.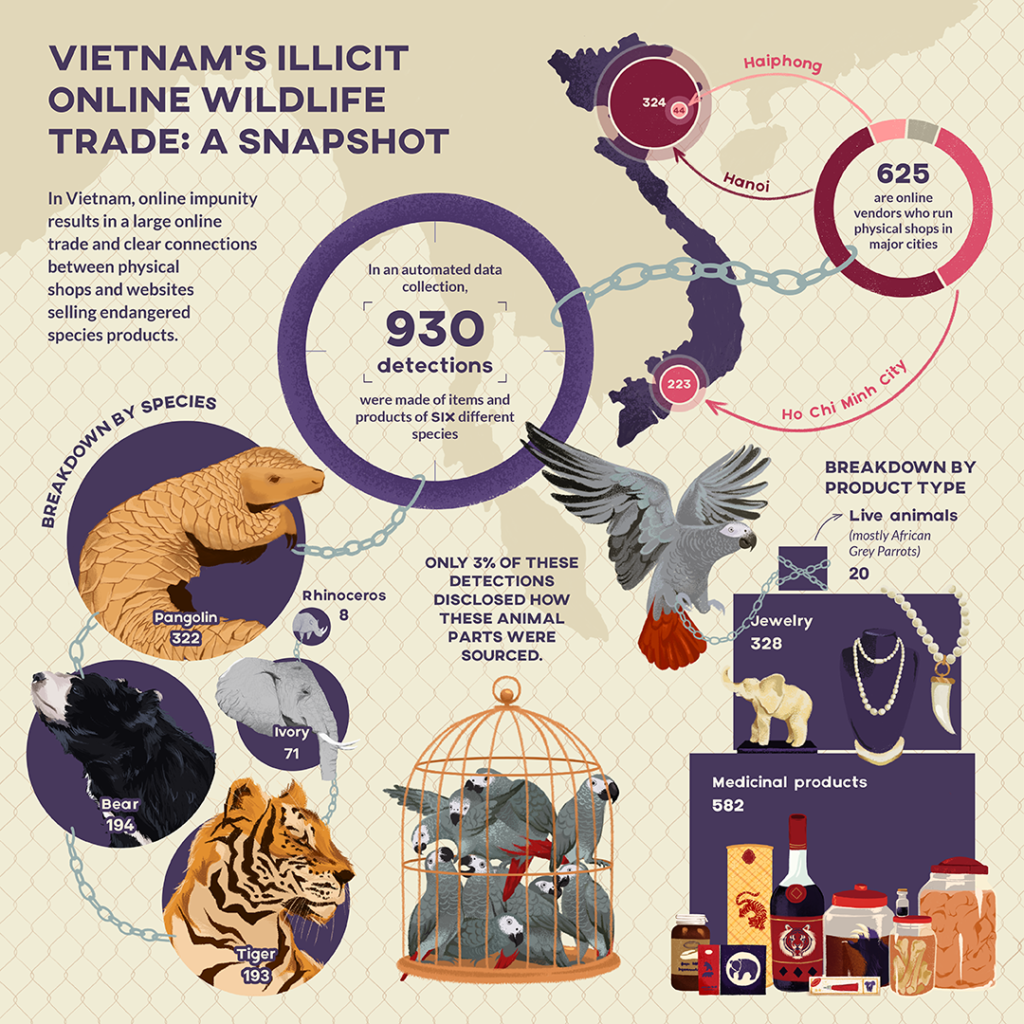 This report is intended to contribute to a wider discussion about what safeguards Vietnamese authorities can introduce to rein in this prolific online trade and to curb the physical wildlife flow that sustain it. The findings allow for a better understanding of how physical and online markets intersect and provide insights into how they can be disrupted.