Extortion is not likely to be uppermost in the minds of those South Africans, or the tens of thousands of international tourists, businesspersons and migrants who regularly flock to Cape Town to enjoy the beauty and prospects that the city has to offer.
In the past, public discussion about extortion in South Africa was limited and media coverage sporadic. Reports focused mainly on isolated instances of extortion in the entertainment and nightclub areas of central Cape Town. Extortion-linked murders of foreign nationals running shops also received only occasional coverage. But the silence around extortion changed significantly during 2020. From about August and September 2020, the media began to increasingly report on a significant expansion of extortion rackets in central Cape Town.
The phenomenon, reportedly, was no longer confined to the night-time entertainment industry but increasingly affected small day-time businesses, including restaurants and coffee bars. This is likely to have been linked to the effect of the COVID-19 lockdown restrictions, which affected the night-time entertainment industry. More alarmingly, reports appeared of a surge in extortion incidents in township areas on the periphery the city. In places such as Khayelitsha, Gugulethu and Philippi, South African residents were being targeted by extortion gangs.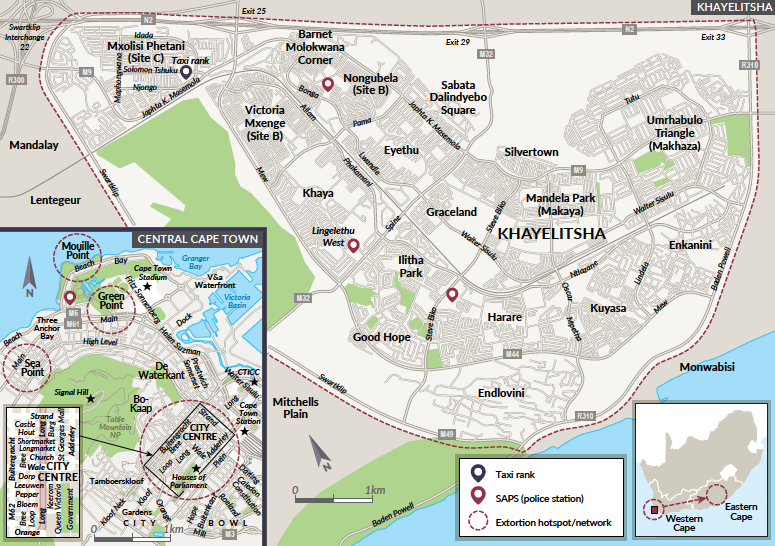 This research report attempts to explore these developments, which occurred during the second half of 2020 in the Cape urban area. It examines what conditions brought the extortion economy to the fore and the nature of the extortion activities. By analyzing who is involved and who are the victims, it seeks to assess how critical this situation is, as well as its impact on development, businesses, tourism, and on the safety and security of residents and communities in the greater Cape Town area.
The report is particularly timeous as it examines the rise of the "Modack group", named after alleged Cape Town crime boss Nafiz Modack, and the hostile takeovers of security contracts for nightclubs and bars in central Cape Town.
Modack and three others were arrested after a high-speed car chase on 29 April 2021 in connection with the murder of anti-gang unit section commander Lieutenant-Colonel Charl Kinnear, the attempted murder of Cape Town criminal lawyer William Booth and counts of gang-related extortion, kidnapping and intimidation.
The murder of Kinnear in September 2020 was a significant turning point for South Africa. How the case is dealt with will have profound consequences for the country's ability to combat organised crime, respond to corruption and rehabilitate and reinvigorate a police service in crisis, floundering in a morass of corruption and criminality.
---
Subscribe to the GI-TOC East and Southern Africa mailing list to stay updated on our upcoming publications and initiatives.