This article is the first output of the GI-TOC Observatory in Central America (CAM-Obs). The aim of the Observatory is to explore issues related to the impact of and fight against extortion in Guatemala, Honduras, El Salvador, Costa Rica and Panama; examine data on criminal trends; and search for potential allies in the region to combat this criminal market.
Subscribe to the dedicated mailing list to stay up to date with CAM-Obs outputs.
---
Constrained by COVID-19 restrictions on travel and movement in Central America, extortion networks have had to adapt their methods. Retroactive payments, new forms of collecting extortion fees and even suspected negotiations with the state are some of the ways that extortionists are seeking to maintain control in the region, and government authorities have had to implement new measures to counter them.
In April 2020, the Global Initiative Against Transnational Organized Crime (GI-TOC) organized a discussion with security authorities in Guatemala, El Salvador and Honduras to learn about the effects of quarantine on extortion. As a result, we published an article, Contagion and extortion in Central America, which describes how the region initially saw a decline in reported cases of extortion as criminal networks adapted to the situation and sought revenue in other criminal activities. This article examines what has happened in the region as restrictions on social movement have been subsequently relaxed.
---
Guatemala
According to Diálogos, a Guatemalan think tank, the pandemic disrupted a pattern of growth of extortion that had been experienced in the country since 2016. However, results of an investigation soon to be published by the GI-TOC show that the national rate of extortion per 100 000 inhabitants rose from 57 in 2018 to 93 cases in the first third of 2020, according to data from the public prosecutor's office.
As economic activity resumed after Guatemala's president, Alejandro Giammattei, introduced an economic recovery plan in late June, one of the first sectors targeted by gangs eager to catch up on their payments was the public-transit industry. Operators said that, for a fleet of about 50 buses, they can pay up to 25 000 quetzales a week (US$3 200) in order to protect their drivers.
In August, Guatemalan authorities took action in an effort to control extortion carried out from prison. The government transferred more than 40 Barrio-18 gang leaders to another prison, in an attempt to impede their coordination of extortion activities. As a response, gang leaders initiated a legal battle and, ironically, even took guards prisoner in a bid to prevent the transfer. Continued monitoring of the situation will be necessary to evaluate the effect that these actions have had on extortion in the country.
---
El Salvador
In El Salvador, according to data from the public prosecutor's office, the rate of extortion per 100 000 inhabitants rose from 40 in 2018 to 46 in 2019, before declining to 23 in the first third of 2020.
Restrictions on travel and movement in El Salvador were among the most severe in the region. As a result, between January and June of this year, extortion complaints dropped by nearly 50% against the same period the year before. The country's security minister has stated that the lower rate of criminality is the result of the Plan for Territorial Control, which aims to improve security in the country by enhancing the capabilities of its security forces, taking territorial control from gangs and improving the prison system. However, some analyses have shown that there is no direct relationship between the municipalities where the plan is in effect and those where decreased levels of criminality have been recorded.
In addition to the difficulties victims faced in reporting extortion cases during quarantine, whether or not the relative drop in the rate of extortion in El Salvador might be the result of the negotiations President Nayib Bukele's administration allegedly held with leaders of the MS-13 and Barrio-18 gangs – in exchange for support in the elections – remains to be seen.
The relative calm that these negotiations seemed to offer has resulted in a 60% decrease in lethal violence: in the first seven months of 2020, El Salvador recorded just 697 homicides, far below the more than 1 630 registered during the same period in 2019. However, plans to control crime such as this do not tend to have long-term results, and this plan may face particular challenges in light of the significant socio-economic problems the country faces. Only 20% of the population has completed secondary school, and 27.4% of young people do not have access to education or employment. According to one local report, this contributes to their likelihood of being recruited into criminal structures such as gangs.
---
Honduras
As for the situation in Honduras, according to data from the police service, the rate of extortion per 100 000 inhabitants increased from 15 in 2018 to 23 in 2019. A change was expected in the first third of 2020, but the GI-TOC's investigation found that six months into the year, Honduran authorities were still collecting data and therefore could not provide finalized numbers for this period.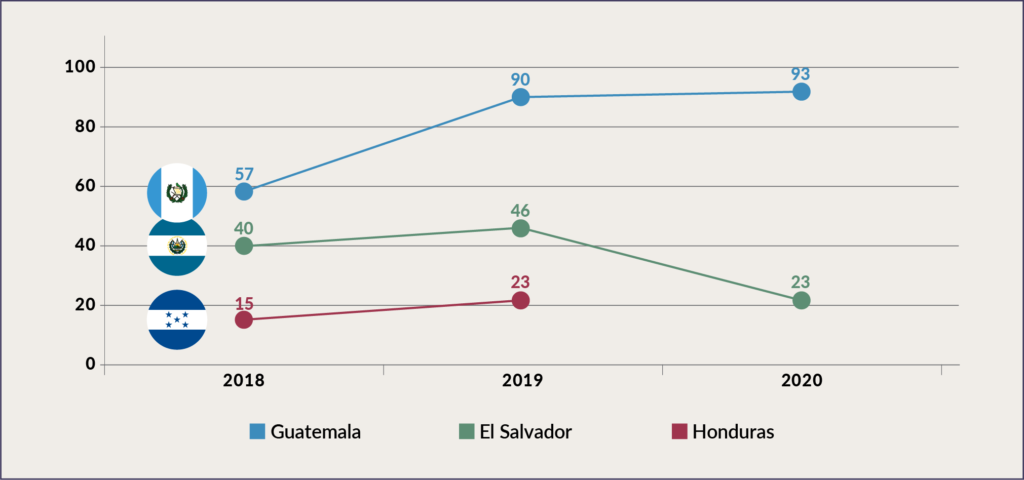 Given these challenges, particularly important has been the launch of a dashboard to display data on extortion and other crimes (such as assault, theft, homicide, kidnapping and robbery, among others) at the municipal level in Honduras.
During and after the period of restrictions on travel and movement, Honduran gangs reacted differently from those in Guatemala and El Salvador. During quarantine, they adopted a more conservative approach and restricted their activities considerably to prevent infection and confrontations with authorities. Moreover, they replaced the revenue previously generated by extortion with revenue from retail drug sales. In April, Honduran authorities arrested two members of Barrio 18 who were transporting a shipment of 300 packages of marijuana hidden in an ambulance.
Both extortion and drug trafficking seem to have persisted after the relaxation of restrictions on travel and movement. Members of MS-13 notified the public-transport sector that they would stop charging extortion payments – or 'war tax', as it's known in Honduras – and they even took back the phones used to communicate with them. And the trafficking of illegal drugs continues: in October, authorities seized a Barrio-18 shipment of more than 50 packages of marijuana hidden in a truck. Honduras's anti-gang unit identified a growing interest in the distribution of illegal drugs in urban centres, which may lead to disputes between criminal organizations over control of local markets.
---
Costa Rica and Panama
Costa Rica and Panama have experienced a phenomenon more akin to loan sharking than extortion, as established in the report A criminal culture: Extortion in Central America.
During lockdown, Costa Rican legislative authorities approved a law that restricts access to legal credit and excludes 30 000 Costa Ricans from the financial system, creating the need to turn to illegal loans, such as the so-called drop-by-drop loans. Conversely, and with an apparent two-year delay, ministry of justice authorities also began to block cell-phone signals in five of the country's 20 prisons in an effort to contain phone-based extortion and fraud.
If one goes by official data, Panama does not experience high extortion rates. However, a 2017 survey found that 85.4% of cases go unreported, revealing that the crime is actually very much a problem that exists in the country, despite low reporting rates.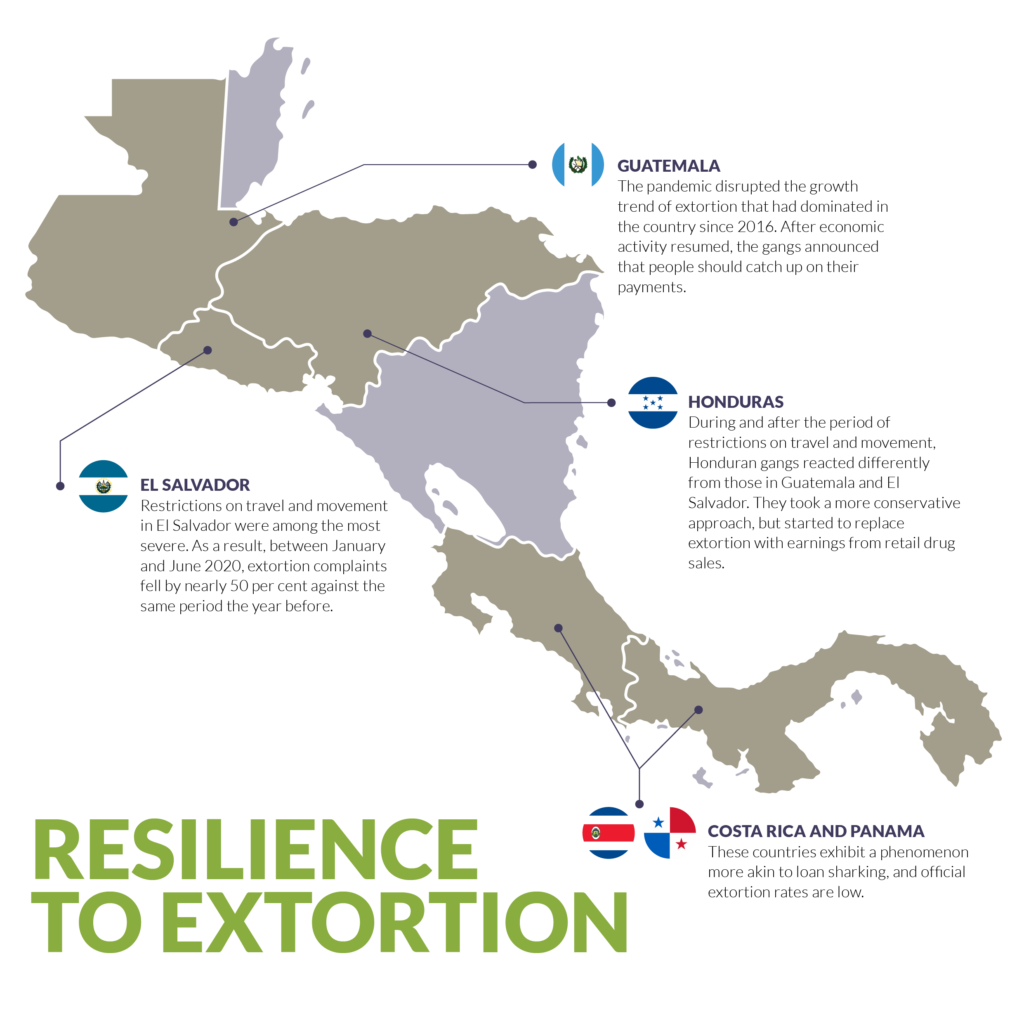 In spite of the public-health crisis, gangs have revealed their ability to adapt so as to continue collecting extortion payments or claw back that income from other activities. Authorities have also implemented innovative plans – such as transferring imprisoned gang leaders – and it has become clear that generating trust in the authorities, improving procedures for making legal complaints and giving citizens greater access to those procedures are key in the fight against extortion, as the reported figures do not reflect the actual magnitude of the criminal phenomenon.
In the GI-TOC's first Spanish-language podcast, we discussed these issues with three experts from the region: Migdonia Ayestas, director of Honduras's National Violence Observatory; Salvadoran anthropologist Juan José Martínez; and Edgar Morales, from Guatemala's Anti-Extortion Office. They explained how restrictions on travel and movement increased the difficulty in reporting this crime to authorities and provided valuable information about new forms of extortion, such as through social media in Guatemala. They also discussed the threats used to demand extortion payments from the owners of public-transport companies in Honduras, which have resulted in the deaths of 44 drivers so far this year, as well as the reactivation of extortion payments in El Salvador without retroactive payments.
---
About the Observatory in Central America
With the objective of identifying programmes aimed at countering extortion and improving the creation of qualitative and quantitative information on this crime, the Observatory analyzes the evolution of the phenomenon and related offences, providing an important resource for local actors. We are committed to exploring topics such as the specific context of each country; changes in the statistics and profiles of the groups, crimes and other offences related to extortion; as well as relevant news articles and public-policy recommendations. While our aim is to address issues with local, national and regional impact, we will also analyze situations such as the public-health crisis provoked by COVID-19 and its effect on illicit economies.
---
Please contact Guillermo Vásquez del Mercado (guillermo.vasquez@globalinitiative.net or coaliciones@globalinitiative.net) for any comments or questions related to the Observatory.