Event Details
16:00-17:30 ICT (Cambodia/Vietnam) | 11:00-12:30 CEST (Austria) | 10:00-11:30 BST (UK)
---
The number of women travelling from Cambodia to China for forced or arranged marriages has surged since 2016 and experienced a further spike since the beginning of the COVID-19 pandemic. Many Cambodian women in arranged marriages with Chinese men, whether originally consensual or not, report finding themselves in remote areas and abusive contexts.
China's one-child policy, in force between 1979 and 2015, reportedly led to sex-selective abortions by families seeking a son instead of a daughter, creating a significant gender imbalance in the country. Driven by Chinese men's search for a wife, especially in rural areas, thousands of women from Cambodia, Laos, Vietnam, Nepal, North Korea, Pakistan, and Myanmar are transported to China to wed. Although some travel knowing that they are to be married, others are deceived. Many report suffering violence, sex abuse and forced labour.
Cambodian women and girls are coerced and forced into arranged and forced marriages through various means: some are deceived and promised a job in China; others are told they need a marriage certificate in order to be eligible for well-paid work (which is not the case); some are tricked and sold by their family members, relatives and acquaintances for a lump sum or the promise of a good marriage and better life in China.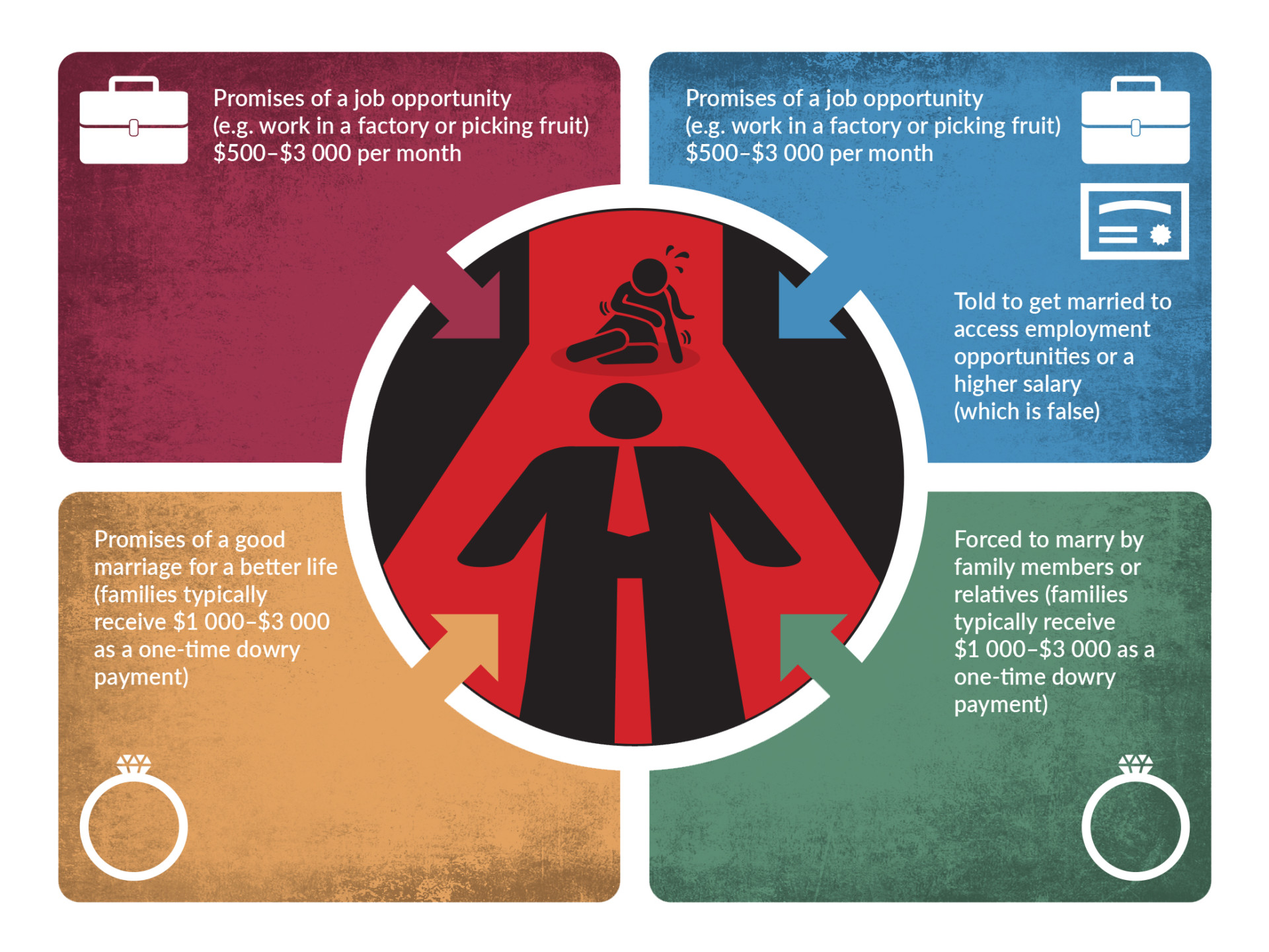 Forced marriage recruitment strategies
This report has been designed and implemented in partnership with Child Helpline Cambodia (CHC), a free service for youth and children in Cambodia which receives trafficking reports from callers. It explores the significant and escalating phenomenon of trafficking of Cambodian women and girls to China for marriage. It investigates the modus operandi of networks transporting Cambodian women and girls to China for forced and arranged marriages, including the routes typically travelled, common and changing profiles of women and girls targeted, and the recruitment process.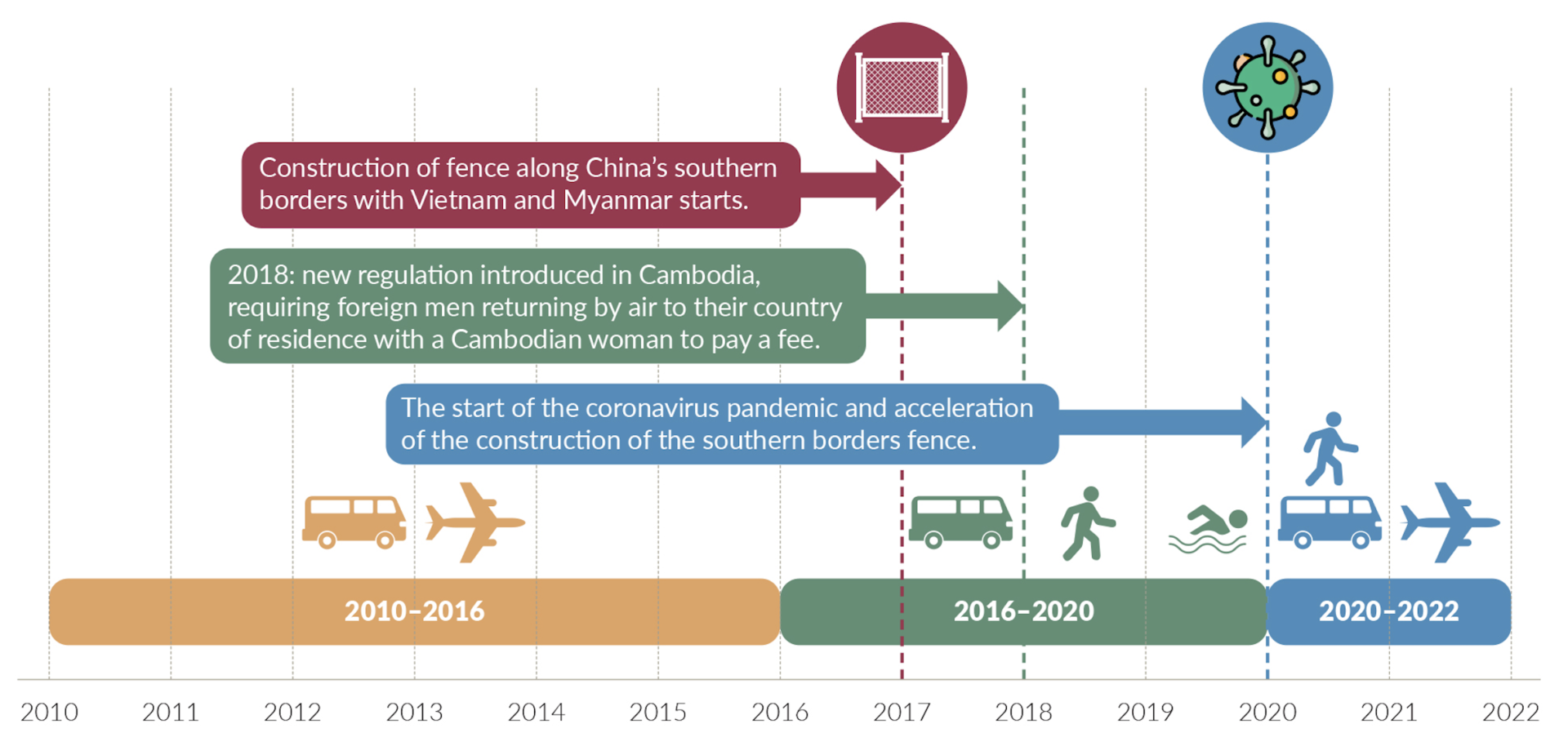 Shifting routes and modes of Cambodia's bride trafficking into China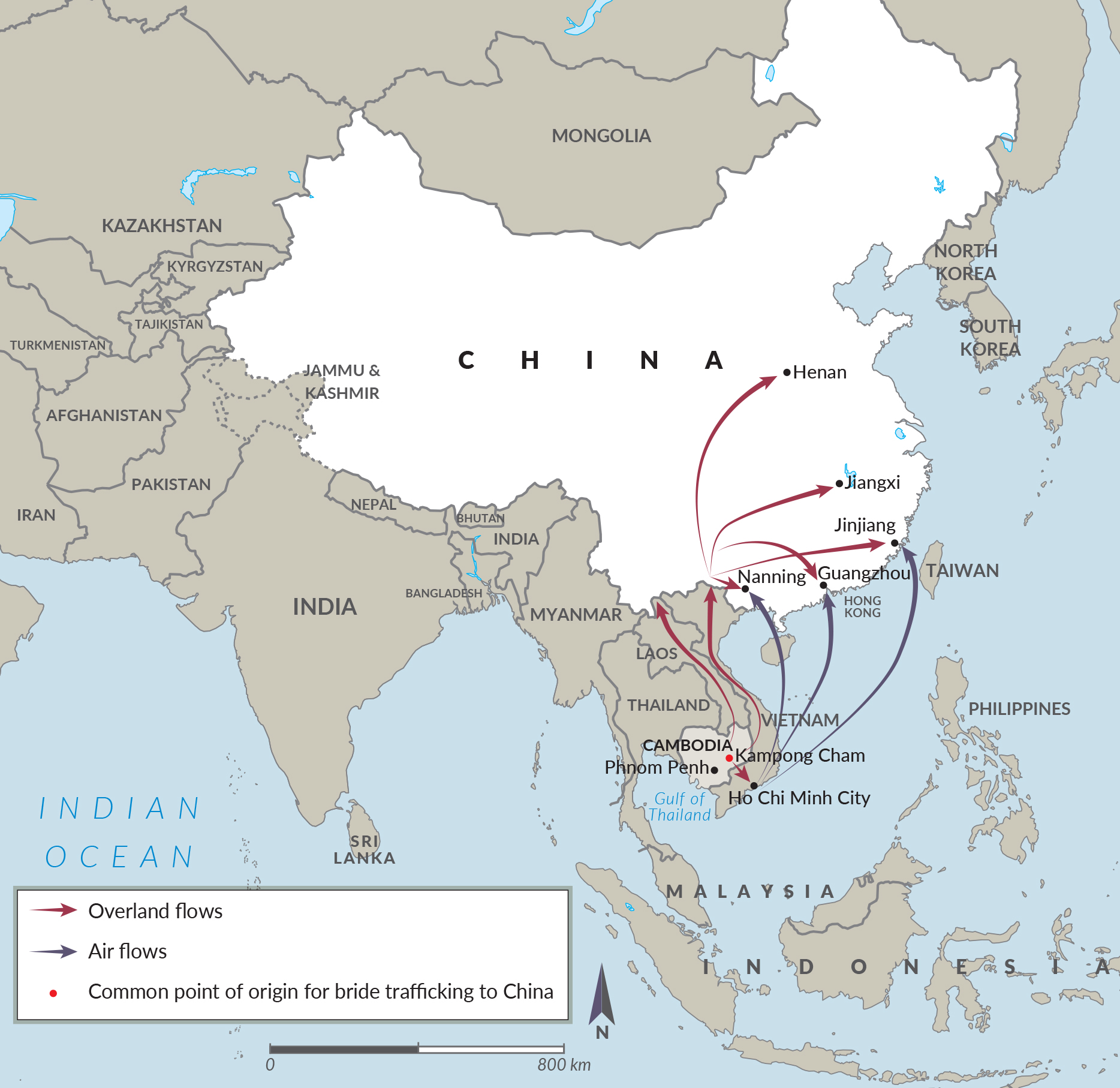 Commonly used bride trafficking routes from Cambodia to China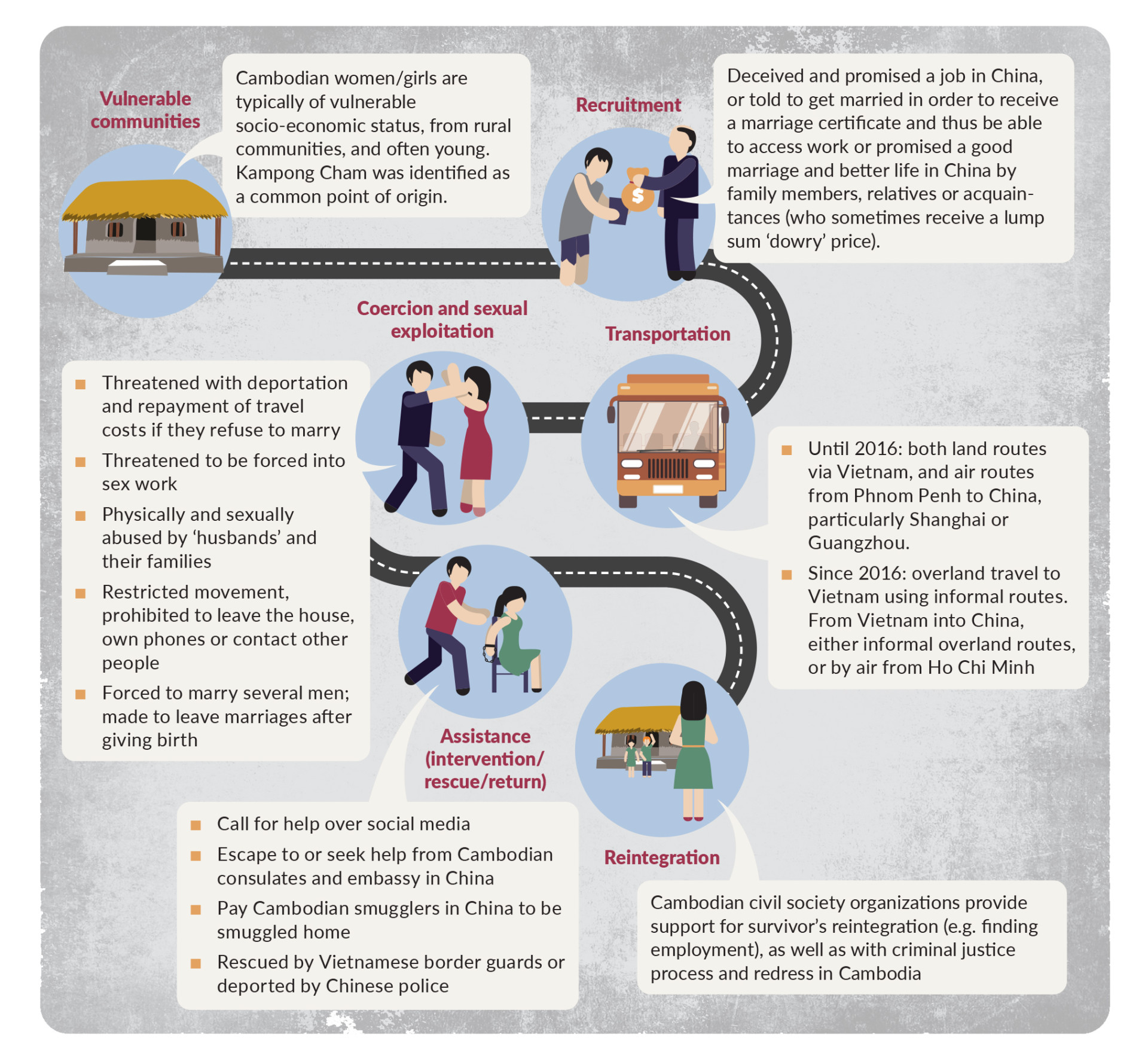 Phases in the trafficking cycle of Cambodian women and girls
---

Report launch: 11 May 2022, 4pm ICT | 11am CEST
This event will present different perspectives on bride trafficking to China, with a focus on how the pandemic has shaped these dynamics. The GI-TOC will share findings from recent research into bride trafficking from Cambodia to China. Chab Dai, a Cambodian civil society organization, and Blue Dragon, a Vietnamese civil society organization that is also a GI-TOC Resilience Fund partner, will share insights from their work with trafficking survivors, focusing on those who have entered into marriages in China.
Chair: Lucia Bird, Director, Observatory of Illicit Economies in West Africa, GI-TOC
Opening remarks: Sean Sok Phay, Executive director, Child Helpline Cambodia
Speakers:
Vireak Chhun, Researcher
Thi Hoang, Analyst and JIED managing editor, GI-TOC
Chan Saron, Senior programme manager of survivor restoration, Chab Dai Coalition
Le Thi Hong Luong, Anti-trafficking coordinator, Blue Dragon Children's Foundation