Abajo en español
South Africa's Minister of State Security David Mahlobo is at the centre of a media firestorm over his alleged ties to a rhino horn trafficker who has openly bragged about bribing justice and immigration officials.
The claims in a new documentary come as President Jacob Zuma's increasingly embattled administration lurches from one political scandal to another.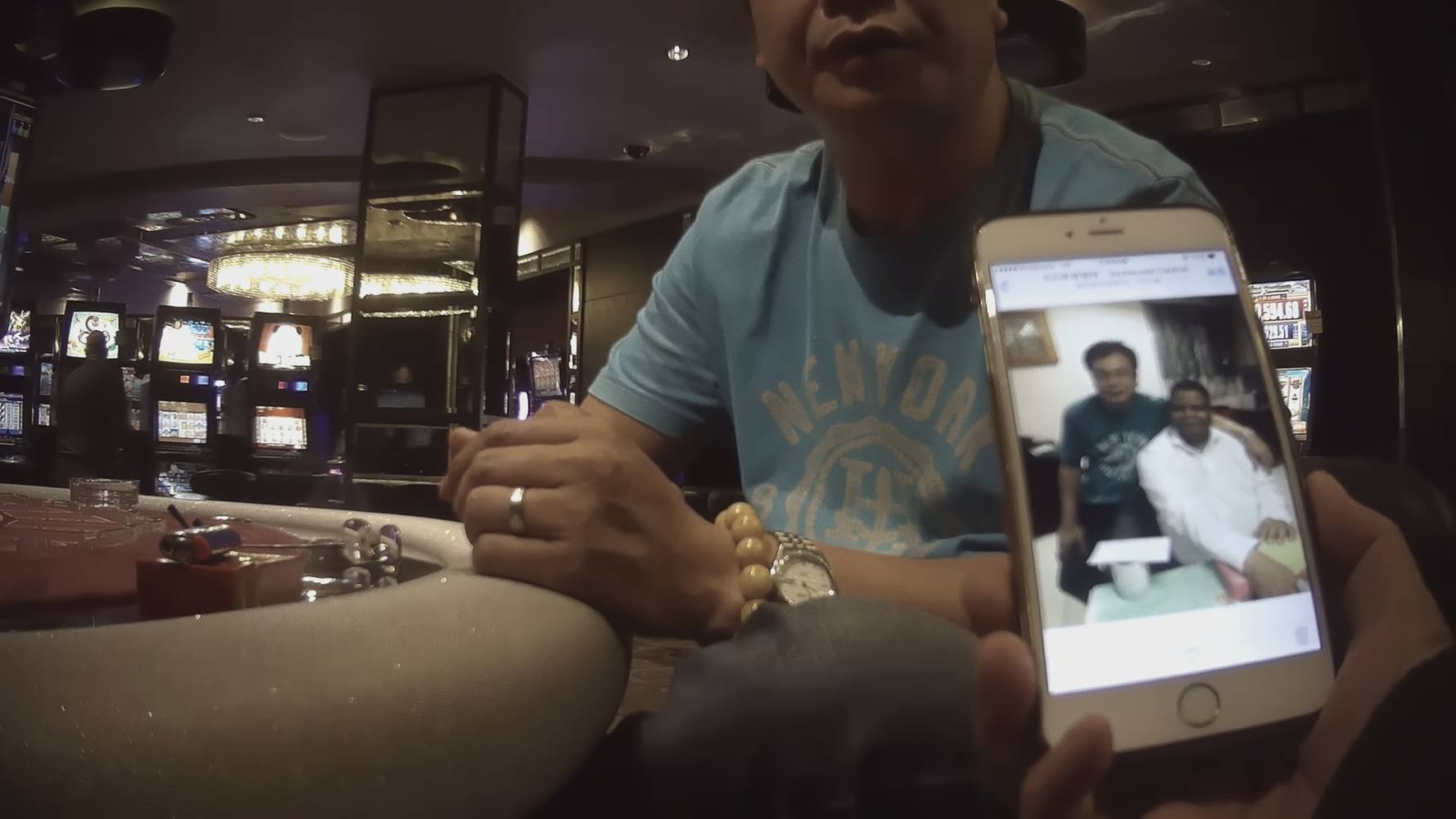 Secretly filmed by an undercover investigator working for Al Jazeera Investigates – the Doha-based television news channel's flagship investigative programme – the Chinese trafficker, Guan Jiang Guang, boasted that he knew Mahlobo "well" and that the minister had been "a guest at my home".  Guan – who showed the investigator what appeared to be several photographs of himself and the minister together (see above) – also made the startling claim that while Mahlobo "doesn't do any business", his wife "is out front…whenever there is a big project".
"It's very common in South Africa that the wives are doing business and the husbands are acting officially," Guan alleged. Guan offered to help the investigator – who he believed to be a prospective business partner – to obtain rhino horn. The investigator later met a contact of Guan's in China's Fujian province and was offered a 2.25kg rhino horn at $27,000 a kilogram.
Mahlobo has admitted meeting Guan and visiting the trafficker's nail salon and massage parlour in the city of Mbombela in Mpumalanga province, but he has vehemently denied Guan's claims about himself and his wife, describing them as "reckless and mischievous". "[Al Jazeera] are basically linking the fact that I used to visit a spa…solely for the services that they render, to the illegal poaching of rhino horns by its owner." He said neither he, nor his family, had any business relationship or friendship with Guan. Mahlobo has threatened to sue Al Jazeera and publications that reported on the documentary.
The allegations are significant given the mandate of the State Security Agency, which he oversees, to gather and assess critical intelligence on national security threats, including organised crime. Zuma has described wildlife trafficking as a "significant threat…to [South Africa's] national security".
No hard evidence has emerged to date linking Mahlobo directly to rhino horn trafficking, or any other illegal activity involving Guan. And there have been documented cases in South Africa of fraudsters and gangsters using photographs taken with politicians, police officials and celebrities to create a perception of influence in order to "knock" or con targets.
But, given that Guan is a self-confessed criminal, and that his comments about Mahlobo – a senior cabinet minister –  were offered up unsolicited in a discussion with someone he believed to be a potential partner in a criminal enterprise, they should be taken seriously and rigorously investigated.
Mahlobo this week asked the Mpumalanga police commissioner to "immediately investigate all allegations" levelled against him and to investigate Guan's involvement in rhino horn trafficking and bribery.
But to have credibility such an investigation would need to be seen to be independent and transparent. Mahlobo is an influential figure in Mpumalanga. He grew up there, played a leading role in African National Congress structures in the province and, prior to his appointment to the State Security portfolio, headed up the department of cooperative governance and traditional affairs there.
According to a report in South Africa's Business Day newspaper today, the investigation has now been referred to the national Directorate for Priority Crime Investigations, better known as the Hawks. But they have been mired in their own scandals. Their head, Lieutenant-General Mthandazo Ntlemeza, once described as "biased and dishonest" by a High Court judge has been accused of being used as a pawn by factions loyal to Zuma.
There have been calls for an independent commission of inquiry be established to investigate the Mahlobo matter. With the Hawks on the case, that appears unlikely to happen. Some have suggested the new Public Protector, Advocate Busisiwe Mkhwebane, be asked to investigate. But she is a former State Security Agency employee and her brief tenure has not been without controversy.
The Inspector-General of Intelligence would be another possibility, but the post has been vacant for more than a year-and-a-half and the inspectorate has been described as "barely functional".
The allegations against Mahlobo are the latest in a steady stream of scandals enveloping Zuma, members of his family and cabinet, and high-level officials in the African National Congress and parastatal organisations.
There are persistent allegations that government ministers and institutions have been systematically "captured" by powerful political and business interests aligned to Zuma. Corruption in South Africa is widespread. A 2014/15 Victims of Crime Survey found that 48% of households believe that police are corrupt, co-operate with criminals (39.1% of respondents) or are simply "lazy" (58,6%).
Violent crime is on the rise and key security structures vital to combating organised crime have been crippled by years of maladministration, political meddling and abuse.
Several scandals over the last decade have centred on high-level law enforcement officials. Key among them was Jackie Selebi, the disgraced national police commissioner and Interpol president, who admitted to a friendship with a drug smuggler and was subsequently convicted of corruption and briefly jailed. Suffering from renal failure, he was released on medical parole and died at home at the age of 64.  His successor, Bheki Cele, also became embroiled in a corruption scandal and was dismissed from the police after being found unfit for office. And in 2010, Sheryl Cwele, the wife of Mahlobo's predecessor as State Security minister, Siyabonga Cwele, was arrested on international drug trafficking charges. She was later convicted and imprisoned. Her husband said he had no knowledge of her criminal activities and the couple divorced in 2011.
In addition to the allegations about Mahlobo, the Al Jazeera documentary suggests that delegates accompanying President Xi Xinping to South Africa last year for the Johannesburg summit of the Forum on China-Africa Co-operation (Focac) bought rhino horn and "a lot of" ivory.
Rather than calling for an investigation, Mahlobo has expressed concern that the claims could damage international relations between South Africa and China.  "Why would you say the president of China brings a powerful delegation on an important African mission and say they've committed criminal activities?" he asked in an interview.
There are no indications at this stage that the allegations of ivory trafficking will be investigated.
The Global Initiative Against Transnational Organised Crime worked closely with Al Jazeera on aspects of the documentary focusing on allegations of high level involvement by Vietnamese and North Korean diplomats in the illicit rhino horn trade.
Drawing on reports published by GITOC in July, the filmmakers investigated links between the Vietnamese embassy in Pretoria and a game farm in South Africa's North West province that is owned by a Vietnamese businessman and alleged rhino horn kingpin. A number of rhinos have been killed by poachers on the farm in mysterious circumstances in recent months. The farm has also been home to significant numbers of tigers. Some have been hunted and there are unconfirmed claims that tigers on the farm have been killed for their bones and body parts.
by Julian Rademeyer, Global Initiative Senior Research Fellow.