In this issue, we start with a profile of a hotspot of organized crime: Trebinje, the southernmost city in Bosnia and Herzegovina.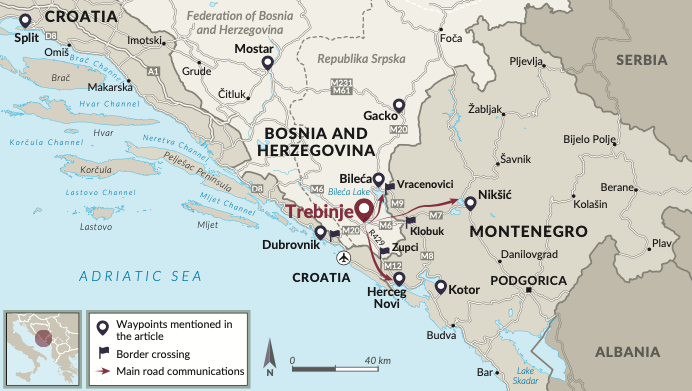 1. Burning rubber: Trebinje as a hotspot for organized crime.
Trebinje, which was a hub for smuggling during the Yugoslav wars in the 1990s, has become a crossroads for the smuggling of drugs, cars, and migrants. We look into why Trebinje is vulnerable to organized crime and what is going on there.
2. Passports and protection: the Macedonian connection of a Turkish crime boss.
Earlier this year, a major scandal in North Macedonia revealed that over 215 passports with false identities were sold by officials in the Ministry of the Interior, including to known criminals. It turns out that one of these passports was sold to Sedat Peker, who recently released a series of videos containing outspoken allegations of crime and corruption by high-ranking officials close to the President of Turkey. We look at what this Turkish crime figure was doing in North Macedonia.
3. Crime does not pay: confiscating and reusing criminal proceeds.
This article looks at what the countries of the Western Balkans are doing to go after illegally gained assets and what happens to those assets once they are recovered. In particular, it focuses on the public reuse of criminal assets, for example, to support civil society.
4. Cell of Montenegrin criminal group discovered in Slovenia.
Since 2014, a bloody clash of clans has claimed the lives of dozens of young men from rival Montenegrin criminal groups, including the notorious Kavač clan. In 2021, in a complex operation, Slovenian police arrested 60 people suspected of being connected to the Kavač clan. This article looks at what is known about the activities of this cell operating in Slovenia and also examines an Austrian connection.
5. More than microphone holders: the Association of Professional Journalists of Montenegro.
In this story we feature an interview with Mila Radulović who is the secretary-general and one of the founders of the Association of Professional Journalists of Montenegro about the group's work, what it is like to be a journalist in Montenegro, challenges that she faces in covering stories related to organized crime and corruption and her thoughts on the new government.
---