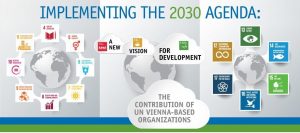 The challenges of the Sustainable Development Goals on the Agenda 2030 are multi-facetted and numerous. The ACUNS Vienna UN Conference provided a forum to discuss actions, potentials and challenges linked to the realization of the Agenda. The conference was be an occasion to share best practices, explore potential future collaborations, and engage in inter-sectoral and inter-agency dialogues.
This year the ACUNS Vienna UN Conference was held from 17 – 19 January and hosted by the United Nations Office in Vienna. All the UN entities hosted at UNOV participated in the Conference as well as the University of Vienna, the Diplomatic Academy and the Regional Academy of the United Nations (RAUN).
The Global Initiative was represented by one of its Senior Advisor, Ugliesa Ugi Zvekic, who attended two sessions following the opening of the conference;
The first Expert Round Table on Peaceful, Just, Inclusive and Prosperous Society was chaired by H.E. Bente-Angell-Hensen, the Ambassador of Norway to UNOV. Presentations were made by IEAI, UNODC, UNOOSA, UNICTRAL, FUNDS, SAS and the GI.
This session clearly showed that each organisation with a different mandate has a specific contribution to make in particular to Goal 16 especially concerning the monitoring of nuclear energy, the respect for international regulations regarding trade, the preservation of the outer space, the control over illicit arms flows, the political economy of organize crime and social development, and the sustainable prevention of transnational organized crime and corruption through technology and education.
The ensuing discussion raised certain critical remarks regarding the modest presence of human rights issues, the migration challenges and that of nuclear disarmament in the 2030 agenda. Despite those challenges, the existence of the SDG 2030 represents the most promising and advanced development agenda to date.
The Young Scholar Sessions: Terrorist Groups vs. Non-State Armed Groups and the Role of the Criminal Justice System was chaired by the Global Initiative's Senior Advisor.
In this session research projects of two groups of students from the University of Vienna (Austria), the University of Szeged (Hungary) and the Comenius University in Bratislava, (Slovakia) were presented.
Overall, the conference was a great success, and very well attended by many students of RAUN, the University of Vienna and the Diplomatic Academy. It, therefore, acted as a forum for the exchange of views, experiences, ideas and ideals among the young generation of people interested in the work of the UN and the representatives of the United Nations and relevant academic organisations residing in Vienna.