How, when and where organised crime is involved in violent activities has been the focus of several reports from the Global Initiative in different contexts. Measuring violence provides ways to determining not only the impact of organised crime but also an indication of how consolidated or fragmented different criminal markets may be. Yet the literature on hits, contract killing and its links to organised criminal activity is surprisingly underdeveloped.
In a newly published book, Hitmen for Hire: Exposing South Africa's Underworld, GI Director Mark Shaw has focussed on the "industry of violence" in South Africa, shedding light on the commercialisation of contract killing and what this means for the country's evolving underworld.
"Mafia-style" violence rises from the point in which state officials and law enforcement agents intersect with politics, money and criminality, where political appointments of self-serving individuals benefit from their close proximity to organised crime. Hitman for Hire investigates the often under-examined nexus between criminality, corruption and violence in the country. Navigating through a tangled labyrinth of hitmen, informers, crooked officials and businessmen, the book sheds light on hitmen themselves, and the context in which they live and work as professionals, as well as the economies in which they operate.
Hitmen for Hire draws on over a thousand hit cases from the past seventeen years, exploring the impact these assassinations have on the evolution of both legal and illegal economies in South Africa and the challenges the country faces in fighting political-criminal networks. Check out Assassinations Witness SA, an ongoing project to collate data on targeted killings and assassinations in South Africa and to raise the profile of their impact on political, economic and social life in the country.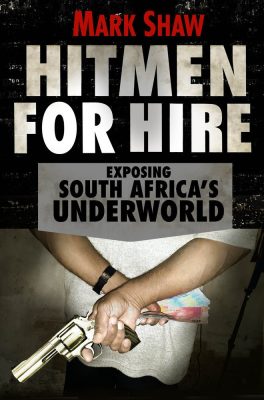 Hitmen for Hire is now available on Amazon: https://www.amazon.co.uk/Hitmen-Hire-Exposing-Africas-Underworld/dp/1868427110
Read an excerpt in the Mail and Guardian: Hitmen, Mafia and Control – South Africa's Underbelly, 16 August 2017
Read a great review by Marianne Tham in South Africa's Daily Maverick: Killers for Hire nourishes Assassins in South Africa, 11 August, 2017.
For more information, or an interview with Mark Shaw, please email the Secretariat at secretariat@globalinitiative.net.
---
Spanish version:
Cómo, cuándo y dónde la delincuencia organizada participa en actividades violentas ha sido el centro de varios informes de la Iniciativa Global en diferentes contextos. Medir la violencia nos ofrece una forma de determinar no sólo el impacto de la delincuencia organizada sino que además nos da un indicio de cuán consolidados o fragmentados pueden estar los diferentes mercados criminales. Aun así, y sorprendentemente, la bibliografía sobre homicidios y asesinatos por encargo y sus lazos con la actividad delictiva organizada carece de un grado de desarrollo suficiente.
En su libro reciente "Hitmen for Hire: Exposing South Africa's Underworld" (Asesinos a sueldo: exponiendo el submundo sudafricano), el Director de la Iniciativa Global, Mark Shaw, ha puesto la mirada sobre la "industria de la violencia" en Sudáfrica, arrojando luz sobre el negocio de los homicidios por encargo y lo que esto significa para la evolución del submundo del país.
La violencia de estilo mafioso surge desde el punto en el que los funcionarios estatales y las fuerzas de seguridad se interceptan con la política, el dinero y la delincuencia, en donde individuos que se dedican a la política por sus propios intereses se benefician de su proximidad con la delincuencia organizada. Hitmen for Hire investiga el nexo entre delincuencia, corrupción y violencia, un ángulo que suele ser poco analizado. El libro, que navega por un entramado de sicarios, informantes, funcionarios y empresarios corruptos, pone el foco sobre los propios sicarios, el contexto en el que viven y trabajan como profesionales, y las economías en las que operan.
Hitmen for Hire se vale de más de mil casos de asesinatos selectivos de los últimos diecisiete años, y explora el impacto de estos homicidios tanto sobre las economías lícitas como ilícitas de Sudáfrica y los desafíos que el país enfrenta en la lucha contra las redes político-criminales. Eche un vistazo a Assassinations Witness SA, un proyecto en curso pensado para cotejar información sobre asesinatos selectivos y homicidios en Sudáfrica, y para elevar el perfil de su impacto en la vida política, económica y social del país.
A continuación, un fragmento y una entrevista a Mark Shaw sobre su libro:
Hitmen for Hire está ahora disponible (en inglés) en Amazon: https://www.amazon.co.uk/Hitmen-Hire-Exposing-Africas-Underworld/dp/1868427110
Disponible aquí un fragmento publicado en el Mail & Guardian: Sicarios, Mafia y Control – El Punto débil de Sudáfrica, 16 de agosto de 2017
Encuentre aquí una gran reseña realizada por Marianne Tham en el Daily Maverick de Sudáfrica.
Para más información, o para solicitar una entrevista con Mark Shaw, contáctese con nuestra Secretaría: secretariat@globalinitiative.net