After more than a year of social unrest in Colombia, the eruption of a national strike on 28 April 2021 has led to outbreaks of violence among demonstrators, police and criminal actors. This comes after decades of social, political and economic turmoil in the country, which is manifest in high unemployment, rising inequality and high criminal activity in Colombia's major cities.
These patterns were only exacerbated by the COVID-19 lockdown of 2020 and subsequent reports of government corruption, driving citizens to the streets in 2021. Since the strike began, violent conflict has resulted in an estimated 74 deaths, 111 cases of missing persons and numerous reports of police brutality, eliciting calls from civil society and the international community to respect human rights. Although much of the focus to date has been on the role of government in quelling the violence, reporting and analysis of the strike have largely overlooked the role of organized crime in the protest action and the subsequent economic crisis.
The use of blockades by demonstrators, particularly in the south-western region of the country, created various opportunities for organized crime groups, petty criminals and opportunistic citizens to use the demonstrations as a pretence for criminal activity. In the meantime, the disrupted transportation system has created shortages of food, medicine and fuel, leading to an economic meltdown. As the national strike continues, the Colombian government and its armed forces need a better understanding of the relationship between social protestors and criminal actors in order to curb crime and violence, and restore the economy.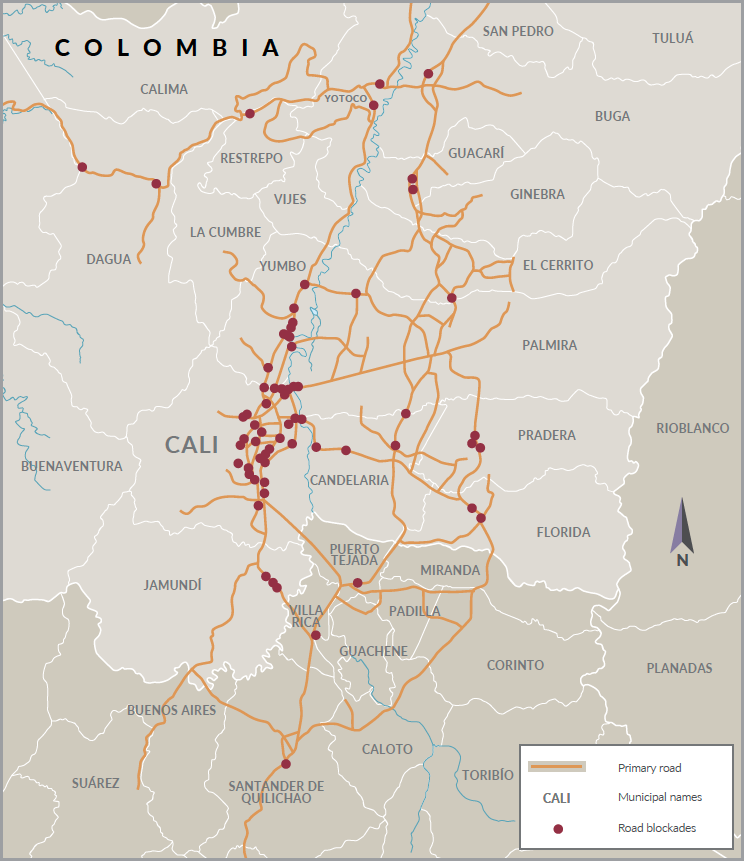 This brief provides an analysis of the events that have occurred in the city of Cali, an economic hub in the south-western region and the epicentre of the strike and blockades. The case study of Cali shows that there are three key interfaces between crime and protest that stem from the strike: the criminalization of social protest, the criminality within the strike and the interests of criminal actors in prolonging the strike. Based on this understanding of the relationship between crime and social unrest, it is necessary for authorities to take corrective action to ensure that future social protests are not considered innately criminal, and that criminal actors do not take advantage of social mobilization scenarios. To this end, five recommendations are put forth: immediate humanitarian action to address the missing persons, comprehensive police reform, strengthening of law enforcement, a serious dialogue between stakeholders about social protest and improved government policies for responding to social protest.