'In this new political landscape, the fight for power will bring carnage … Without a doubt, there will be more political crimes in this region,' wrote María Elena Ferral on 12 March. Her forecast would prove chillingly accurate. Eighteen days later, the 49-year-old Mexican journalist was shot dead.
In her column, Polaca Totonaca (translated as the 'Politics of Totonaca'), published every week on her website, El Quinto Poder (the Fifth Power), María Elena had recounted the murders of four potential mayoral candidates in Gutiérrez Zamora, a town in the state of Veracruz, on the Gulf of Mexico.
Gutiérrez Zamora is prized territory for criminal groups. Federal Highway 180 passes through the region, a road that stretches through six Mexican states. Along it are transported legal products, along with a steady traffic of stolen fuel and goods, drugs, exploited women and immigrants.
'Caciques' (people who wield great power in rural areas of the country) 'fight for control of this little town with lead and blood,' she wrote. Those caciques are, allegedly, allies of criminals and the government, and María Elena blamed them for the four murders.
On 30 March, two men intercepted her at the entrance to a Notary Public's office in Papantla, a city in the same region as Gutiérrez Zamora. There, she was shot three times with rounds that penetrated her liver and lungs, leading to massive blood loss. She died in hospital later that day.
Ferral was the 24th journalist to be murdered in Veracruz in the last eight years. This one particular Mexican state is considered the most dangerous place for the press in Latin America, according to non-governmental organization Reporters Without Borders.
'My mom knew there was a price on her head'
'When she published her last column, I told her to take precautions. She didn't listen and told me to publish it,' said Fernanda De Luna, María Elena's daughter. We arranged our interview to happen in a secret place where she and her younger brother live, guarded by police.
The young woman spoke of her mother's last report, in which she named the alleged killers of Javier Riaño (murdered on 5 September 2018), Saúl Zapata, (1 January 2019), Alberto René Cancino (19 February 2020) and Ramón Pérez Cano (6 March 2020).
Ferral had linked the deaths of the four men to a group called Totonacapan, whose leaders were politicians from the Totonaca region. Some had criminal records and would do anything to maintain their power, even killing, wrote the reporter in her column.
'My mom knew there was a price on her head because there were constant threats. … When the [political] murders began, I told her to stop [writing about it], to consider how things were unfolding. She said she'd think about it,' Fernanda said.
One of the politicians she wrote about was Basilio Picazo Pérez, former mayor of Coyutla – a town in Veracruz – and an ex-local congressman from Papantla. He is now a fugitive, considered by the Attorney General's office in Veracruz to be the mastermind behind Ferral's killing.
On 7 May, the authorities confirmed that 11 arrest warrants had been issued because of the Ferral case. Six men had been detained by then, one of them another journalist, known as José 'N', under investigation because allegedly he had delivered information to the criminal group that killed Ferral.
The Attorney General's office reported that María Elena's journalistic work was considered the motive for the crime. However, her family also revealed that she was considering running for mayor of Gutiérrez Zamora, her home town, in 2021. She lived out her last days tempted by the idea of governing the town, a place that had seen only three women municipal leaders over the last 65 years. She also knew that politics was her chance to earn a better income, and as a single mother the bigger salary was attractive. In that region, most journalists don't even receive a wage for their work.
Writing under siege
María Elena's 33-year-long career gave her special knowledge. She had a prime network of sources, and officials note that she provided information that was crucial in leading to the arrest of the alleged murderer of Leobardo Vázquez, another journalist from Gutiérrez Zamora, who was killed on 21 March 2018.
The quality of her work brought her prestige, and earned her a national journalism award. But it also courted danger. She began to receive death threats. She assumed the source was Basilio Picazo and the Totonacapan group.
The first violent attack on María Elena was linked to the 2004 murder of Alonso Vázquez, a former municipal councillor in Coyutla, who had accused Picazo of corruption while he was mayor.
'[In an interview,] Vázquez told my mom that Basilio, gun in hand, had threatened to kill him. Just a few days later, Vázquez was dead,' Fernanda said.
María Elena gave the tape from that interview to the authorities investigating the crime. Days later, unknown men shot her outside her house, wounding her in the leg. 'She didn't file a police report; she was too frightened,' Fernanda explained.
Two men were arrested for Vázquez's murder; one revealed that Picazo had paid him 70 000 pesos (around 3 500 dollars). Later, an arrest warrant was issued against the former mayor, but no charges were laid.
Seven years later, in 2012, she was attacked again. This time, gunmen opened fire as she and her family were driving, causing their car to collide with another vehicle. The attackers managed to get away.
In 2016, Picazo ran for state congress for the district of Papantla, marking his return to politics. The same year, María Elena filed a complaint with the Attorney General's office against him, after he had allegedly told her in front of reporters that she had only 'a few days' to live. Her daughter now says that government officials pushed her to drop the accusations.
A home by the river, a dream unfulfilled
As she approached 50, María Elena dreamt of buying a house by the Tecolutla River, in her home town. It would be a sanctuary from the stress and pressures of her work.
She had worked hard for many years to realize her ambition. At the age of 16, she was at college while working at the El Sol de Tampico local newspaper. From her early days, her life was distinguished by a near-military discipline, habits forged from being raised in the countryside. She brought that vigour as a journalist in Veracruz, writing as a correspondent for El Diario de Xalapa, covering politics and crime. Years later she founded her website.
Every day, her daughter said, she would wake up at 6 a.m., check the messages on her three phones, take her son to school and, on her way back, buy the newspapers to check in on the important issues of the state and her region.
The same woman who condemned abuses against the dispossessed and demanded justice for the murders of other journalists also had an indulgent, loving motherly side.
'She liked to go to the movies with us; it served as a distraction. She also used to make the time to help my brother with homework. And she was mortified when there was no money,' Fernanda said without even crying. Her character, strong as iron, is something she inherited from her mother.
On 23 May 2020, María Elena would have turned 50. Fernanda recalled her mother's last birthday. 'I took her to her favourite restaurant, and she ate a seafood casserole. The truth is she will be missed a lot.'
The family continue to wait for justice for their mother. Their wait may well be a long one. Official records show that of the 24 cases of journalists in Veracruz who have been murdered over the last eight years, only four people have been sentenced: an 87 per cent impunity rate. Justice rarely comes.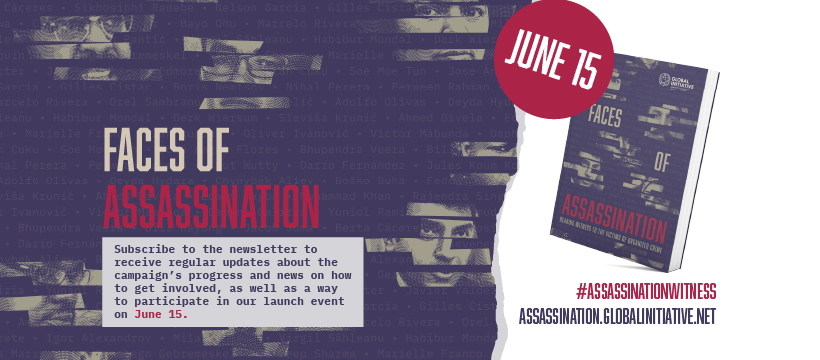 "En este nuevo escenario político, la lucha por el poder será encarnizada (…) y sin lugar a dudas habrá más crímenes políticos en esta región", escribió el 12 de marzo de 2020 la periodista mexicana María Elena Ferral Hernández. Su pronóstico se cumplió 18 días después, cuando la asesinaron a balazos.
En su columna Polaca Totonaca —publicada cada semana en su sitio web El Quinto Poder—, Ferral explicó la ruta de cuatro homicidios de potenciales candidatos a la alcaldía de Gutiérrez Zamora, una población de 25 mil habitantes ubicada en el Golfo de México.
Esa pequeña demarcación, apuntó la periodista, es disputada "con plomo y sangre" por caciques —personas con gran poder político en zonas rurales del país— presuntamente aliados con criminales y autoridades, a quienes responsabilizó por los cuatro crímenes.
El municipio de Gutiérrez Zamora es atractivo para grupos delictivos. Por esa costa atraviesa la carretera federal 180 —que recorre seis estados de México, desde Puerto Juárez, Quintana Roo (en el Caribe), hasta Matamoros, Tamaulipas (frontera con Estados Unidos)— y son transportados productos legales valiosos, pero también se trafica combustible y mercancía robada, drogas, mujeres empleadas para la trata y migrantes.
La tarde del 30 de marzo, Elena fue interceptada por dos hombres en la entrada de una notaría en la ciudad de Papantla, a 250 kilómetros del puerto de Veracruz. Allí recibió tres impactos de bala (calibre 45) que perforaron su hígado, sus pulmones y vaciaron la sangre de su cuerpo.
Ese asesinato significó el número 24 contra periodistas en Veracruz en los últimos ocho años. La entidad del estado mexicano es considerada la zona más peligrosa para la prensa en América Latina, según un informe de la organización internacional Reporteros Sin Fronteras.
"Mi mamá sabía que su cabeza tenía precio"
"Cuando sacó su última columna yo le dije que tomara medidas. 'Mamá, no te expongas así'. No hizo caso y me pidió que la subiera a nuestro portal", cuenta Fernanda De Luna, hija de Elena Ferral.
La joven narró sobre el último escrito que su madre redactó, el cual daba nombres y apellidos de quien señaló como responsables de los homicidios de Javier Riaño (5 de septiembre de 2018); Saúl Zapata, 21 de enero de 2019); Alberto René Cancino (19 de febrero del 2020); y Ramón Pérez Cano, (6 de marzo de 2020).
Ferral atribuyó estas muertes a un grupo denominado Totonacapan, liderados por políticos de la región totonaca; algunos con antecedentes penales, quienes estarían dispuestos a todo para perpetuar su poder, incluso a matar a sus oponentes, escribió la reportera.
"Mi mamá sabía que su cabeza tenía precio porque las amenazas hacia ella eran muy constantes (…) Cuando empezaron los asesinatos a los precandidatos le dije que ya (dejara de escribir sobre ellos), que pensará cómo se estaban poniendo las cosas. Me dijo que lo iba a pensar", contó Fernanda.
Uno de los políticos señalados en la columna fue Basilio Picazo Pérez, un exalcalde de Coyutla y exdiputado por Papantla. La Fiscalía General de Veracruz responsabiliza a Picazo por haber ordenado matar a Ferral; actualmente es prófugo de la justicia.
El 7 de mayo de 2020, Verónica Hernández, titular de la Fiscalía de Veracruz, confirmó que fueron giradas 11 órdenes de aprehensión por el asesinato de Ferral; seis hombres ya fueron detenidos, entre ellos un reportero, José "N", quien es investigado por facilitar información a un grupo criminal que habría asesinado a la periodista de 49 años de edad.
Hernández informó que la labor periodística que ejercía Ferral es la línea de investigación que se sigue por su crimen.
No obstante, familiares de la víctima reconocieron que María Elena también recibió una propuesta de partidos políticos para contender por la presidencia de su natal Gutiérrez Zamora en las elecciones de 2021.
Ferral, a la par de su oficio periodístico, vivió sus últimos días tentada con la idea de gobernar ese poblado, que solo ha sido representado por tres mujeres en 65 años. Ella sabía, también, que era su oportunidad de ganar un salario mejor remunerado y así apoyarse con su rol de madre soltera.
En la región de Papantla 35 de 50 reporteros no perciben un sueldo formal de sus empresas. Ellos sobreviven ofreciendo notas con políticos que pagan hasta en 20 pesos (menos de 1 dólar), informó Jorge Morales, secretario ejecutivo de la Comisión Estatal de Atención y Protección a Periodistas de Veracruz.
Escribir bajo amenazas
Las fuentes periodísticas de Elena eran algo privilegiado que añejó a lo largo de 33 años de carrera. Autoridades del gobierno mexicano relataron que información suya fue determinante para capturar al presunto homicida del reportero Leobardo Vázquez, acribillado el 21 de marzo de 2018, en Gutiérrez Zamora.
Ese tipo de información a Ferral no solo le dio prestigio y un premio nacional de periodismo, en 2005. Ese mismo año comenzaron agresiones y amenazas de muerte atribuidas por la reportera a Basilio Picazo y otros integrantes del Grupo Totonacapan.
El primer hecho violento contra Ferral se relaciona con el asesinato de Alonso Vázquez, exsíndico de Coyutla —municipio de la región de Papantla— quien en 2004 denunció ante diputados a su superior, el entonces alcalde Basilio Picazo por actos de corrupción.
"A mi mamá el síndico le declaró (en entrevista) que Basilio con un arma le dijo que lo iba a matar. A los pocos días lo matan", cuenta Fernanda De Luna, en una entrevista llevada a cabo en un lugar secreto, donde ella y su hermano menor viven custodiados por policías.
Elena entregó la grabación de la entrevista a autoridades mexicanas que investigaron el crimen de Vázquez. Días después, hombres desconocidos le dispararon afuera de su casa, hiriéndola de una pierna. "Ella por miedo no denunció", agrega la hija.
Por el crimen del exsíndico Vázquez fueron detenidos dos autores materiales; uno de ellos reconoció haber recibido como paga 70 mil pesos (3,500 dólares) de Picazo. La autoridad giró una orden de aprehensión contra el exalcalde pero nunca fue detenido.
Siete años después, en 2012, Ferral sufrió un nuevo atentado. Hombres dispararon contra ella y su familia en una carretera de Papantla. La reportera impactó su carro contra un tráiler y tuvo lesiones. Los agresores huyeron.
Para 2016, Elena denunció penalmente a Picazo, a quien señaló de haber sostenido frente a reporteros que a ella "le quedaban pocos días" de vida. Funcionarios del gobierno estatal presionaron a Ferral para se desistiera de sus acusaciones y ella lo hizo, cuenta su hija. Ese mismo año, Picazo se postuló como diputado por Papantla y regresó triunfante a la política.
Comprar una casa junto al río, el sueño de Elena 
A sus casi 50 años, María Elena soñaba con comprar una casa junto al río Tecolutla; lejos del estrés, gritos y presiones que son propias de "un oficio para neurasténicos", solía decir el periodista mexicano, José Pagés Llergo.
Pero esas añoranzas llegarían solo después de que lograra ver a su hija María Fernanda, de 24 años, graduarse como abogada y a su pequeño hijo Luis hacerlo como médico.
Ferral emigró de un pueblo llamado Cacahuatal a los 16 años hacia el estado de Tamaulipas. A esa edad alternó sus estudios de universidad y trabajó en el periódico El Sol de Tampico.
Desde sus inicios una disciplina militar distinguieron a Elena; esos hábitos los forjó en el campo, en la casa de sus padre. "Desde los nueve años se paraba a las cuatro de la mañana; iba a cuidar las cosechas y a arrear el ganado", comparte su hija.
Con ese ímpetu, Elena volvió a Veracruz para consolidarse como un referente de la información, esta vez en el periódico El Diario de Xalapa, donde era corresponsal y cubría las fuentes de política y policial. Años más tarde fundó el portal en internet El Quinto Poder.
Todos los días -comparte su hija- se levantaba a las seis de la mañana y revisaba mensajes en sus teléfonos. Antes de salir a reportear, llevaba a su hijo a su escuela; de regreso compraba periódicos para estar enterada de lo más importante en la región y el resto de la entidad.
La mujer huraña que condenaba enérgicamente abusos contra sectores abandonados y que exigía justicia en los asesinatos de otros periodistas veracruzanos, también mostraba una faceta de madre consentidora cuando llegaba a casa por las noches; a veces de madrugada.
"Le gustaba ir al cine con nosotros; le servía de distracción. También se daba tiempo para ayudar a mi hermano con sus tareas. Se mortificaba cuando no había dinero", dice Fernanda sin que el llanto la invada. Su carácter, fuerte como el plomo es algo que heredó de Elena.
Este 23 de mayo, Ferral cumpliría 50 años. Fernanda recuerda el último cumpleaños que pasaron juntas. "La llevé a su restaurante favorito y comió una cazuela de mariscos. Se le extraña muchísimo", confiesa la joven.
Los registros oficiales muestran que por los 24 asesinatos de periodistas en Veracruz solo hay cuatro personas sentenciadas por un juez. El nivel de impunidad se traduce en un 87 por ciento. Justicia que nunca llegó.
– – –
On June 15th we will launch the campaign #AssassinationWitness and landmark book "Faces of Assassination" that assembles 50 profiles of men and women who have been killed by criminal groups since the start of the millennium.
Join the dedicated newsletter to receive other materials, regular updates about the campaign's progress, and info on how to participate in our launch event on June 15th.