The war in Ukraine has spurred the largest refugee crisis in Europe since the Second World War. According to EU border and coastguard agency Frontex, by the end of 2022, 15 million Ukrainian citizens had fled to Europe since the beginning of the war, with roughly 3 million choosing to stay.
While the unforeseen scale of the refugee crisis meant that much of the border authorities' efforts and resources were occupied, people smuggling networks took advantage of the situation, and the number of irregular migrants from the Middle East travelling along the Western Balkan route soared. There are many contributing factors to this trend, but migrant smuggling has indeed resurfaced as the fastest-growing market for organized crime in the Balkan region. At the start of September 2022, Frontex reported that they had documented the highest number of irregular entries since 2016, with a 75% increase compared to the same period in the previous year. Thus, in 2022, the Western Balkan route became the most active European migration route, surpassing the Central and Western Mediterranean routes.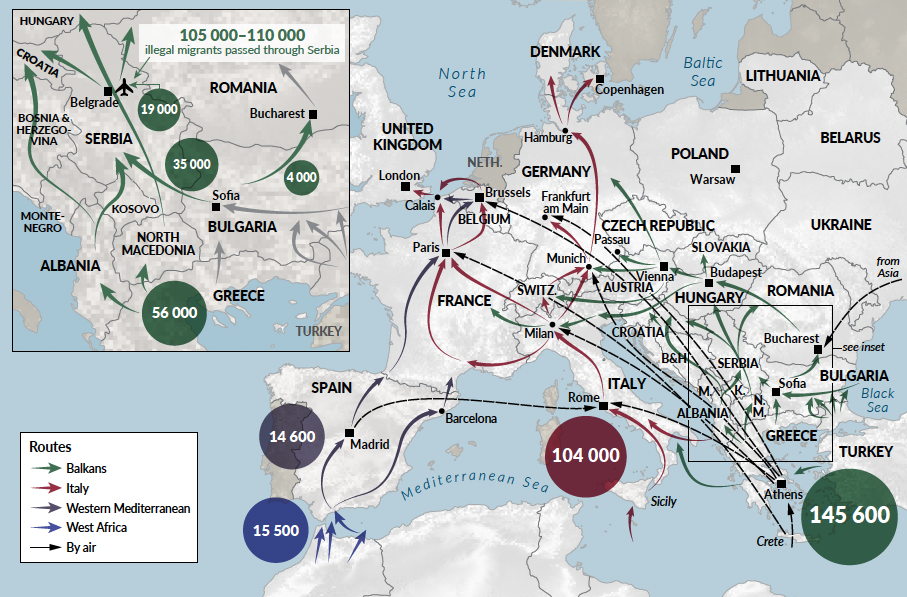 This paper assesses the factors that contributed to the emergence of the Western Balkan route as the most critical for irregular migration to the EU during 2022, focusing in particular on the impact of the war in Ukraine on refugee flows from the Middle East and North Africa (MENA) and its implications for the future. It analyzes how, if anything, refugee flows from Ukraine have affected pre-existing movements of migrants from MENA countries on the Western Balkan route indirectly, exacerbating dynamics and network operations. It also estimates the overall number of irregular migrants smuggled along the Western Balkan route since 2016, describes the evolution of smuggling networks in 2022 and assesses the implications for South Eastern Europe.