On 15 July 2021, investigative reporter and crime journalist Peter R. de Vries was shot multiple times after leaving the TV studio in Amsterdam where he appeared as a regular guest on a talk show.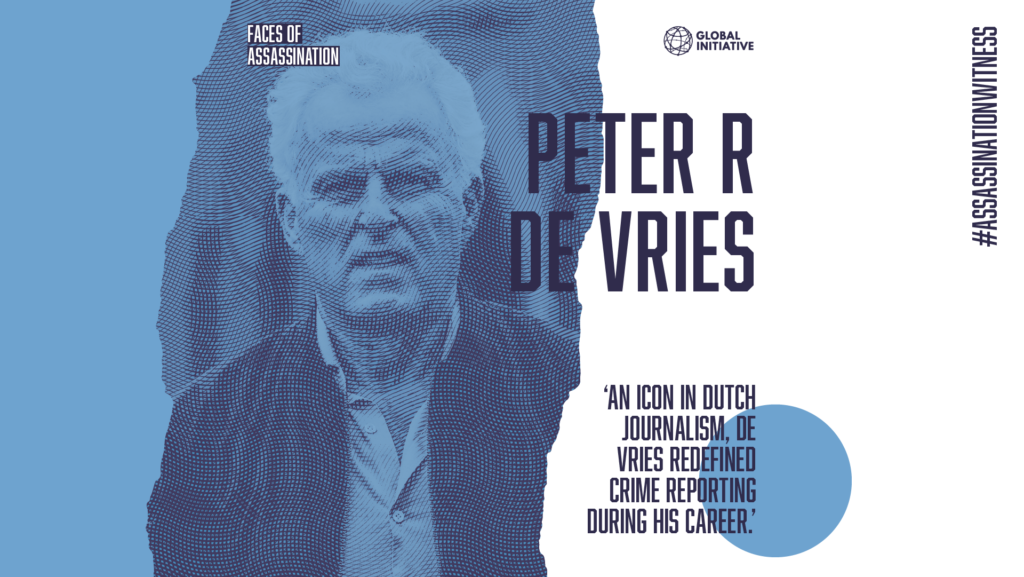 An icon in Dutch journalism, de Vries redefined crime reporting. He published countless scoops on the kidnapping of Freddy Heineken, Dutch businessman and heir to the beer emporium in the 1980s, which brought him national recognition. He devoted his journalistic career to fighting injustice and specialized in miscarriages of justice, often supporting families of missing children.
His work encompassed more than just journalism. The Golden Clue, a foundation he had created to raise money to reopen the case of Dutch student Tanja Groen, who had disappeared in 1993, reached its 1 million euro target two days before his death. He helped free two men who had been wrongly convicted in a murder case; he won an International Emmy Award in current affairs for his coverage of the Natalee Holloway case – a US citizen who had disappeared during a graduation trip; he assisted the police in their 20-year-long investigation into the death and rape of Nicky Verstappen, an 11-year-old boy.
Up to that point, De Vries had steered clear of issues around transnational organized crime. That would change when, in early 2021, he became legal advisor to Nabil Bakkali, a former gang member turned key witness in a criminal case against alleged Moroccan-Dutch crime boss Ridouan Taghi. Seventeen people, including Taghi, are believed by the authorities to be part of a cocaine syndicate and connected to a number of murders and attempted murders.
Before De Vries's death, Bakkali's lawyer at the time, Derk Wiersum, and Bakkali's brother were also assassinated, most likely because of their involvement in the same case. De Vries realized the high price that had already been paid because of the trial, according to criminologist Hans Nelen of Maastricht University. But this did not deter him from getting involved.
'First it was the witness's brother, then his lawyer, so to connect Peter's murder with the case too seems a given. It seems like everyone surrounding the key witness has a target on their back,' said Sven Brinkhoff, a specialist in criminal procedures.
Members of Dutch civil society groups say that they are concerned that the government thinks their approach to serious crime is inadequate. Experts would agree. 'Before the assassination of Derk Wiersum,' Brinkhoff said, 'the Netherlands was naive about the threat of dealing with a key witness.' However, 'since the death of De Vries, organized crime's statement is loud and clear: anyone who as much as considers to act as a key witness, as an informant, will pay a price.' They are lessons that have been learnt the hard way, but these attacks linked to this case are likely to lead to tighter security measures for key witnesses and those close to them.
---
Read the full story about Peter De Vries's assassination here:
---
Read more about our #AssassinationWitness campaign and sign-up to the Assassination Newsletter to get regular updates on the launch event.