Event Details
Time: 13.30 GMT, 14.30 UTC, 15.30 CET
---
A language interpretation service will be available in English and French.
Une interprétation simultanée sera disponible dans les langues suivantes : anglais, français.
This report considers Jama'at Nasr al-Islam wal Muslimin's (JNIM) relationship with illicit economies in Burkina Faso, where it has rapidly become the dominant non-state armed group, and indeed the principal (if contested) armed presence in most rural areas since late 2020. Although armed activity in Burkina Faso can be traced to late 2015, the conflict has intensified dramatically in the last three years, creating one of the world's most severe (and most neglected) humanitarian and displacement crises.
Between 2020 and 2021, the number of conflict incidents more than doubled, from 643 to 1 373. The first half of 2022 has seen intense levels of violence continue, with 788 incidents recorded in Q1 and Q2. Amid this crisis, JNIM in Burkina Faso has, for the most part, been committed to establishing its own form of Islamist governance and to expanding that governance into new areas. JNIM's own illicit activity, and its facilitation of illicit activity, must be considered in light of this strategy.
JNIM was formed in Mali in 2017 through the amalgamation of the major al-Qaedaaffiliated armed groups in the country: al-Mourabitoun, the Saharan branch of al-Qaeda in the Islamic Maghreb (AQIM); Ansar Dine; and Katibat Macina. Many members of these forerunner groups had significant criminal as well as militant experience and some of these activities were cornerstones of funding for certain JNIM component groups, even prior to the Malian conflict.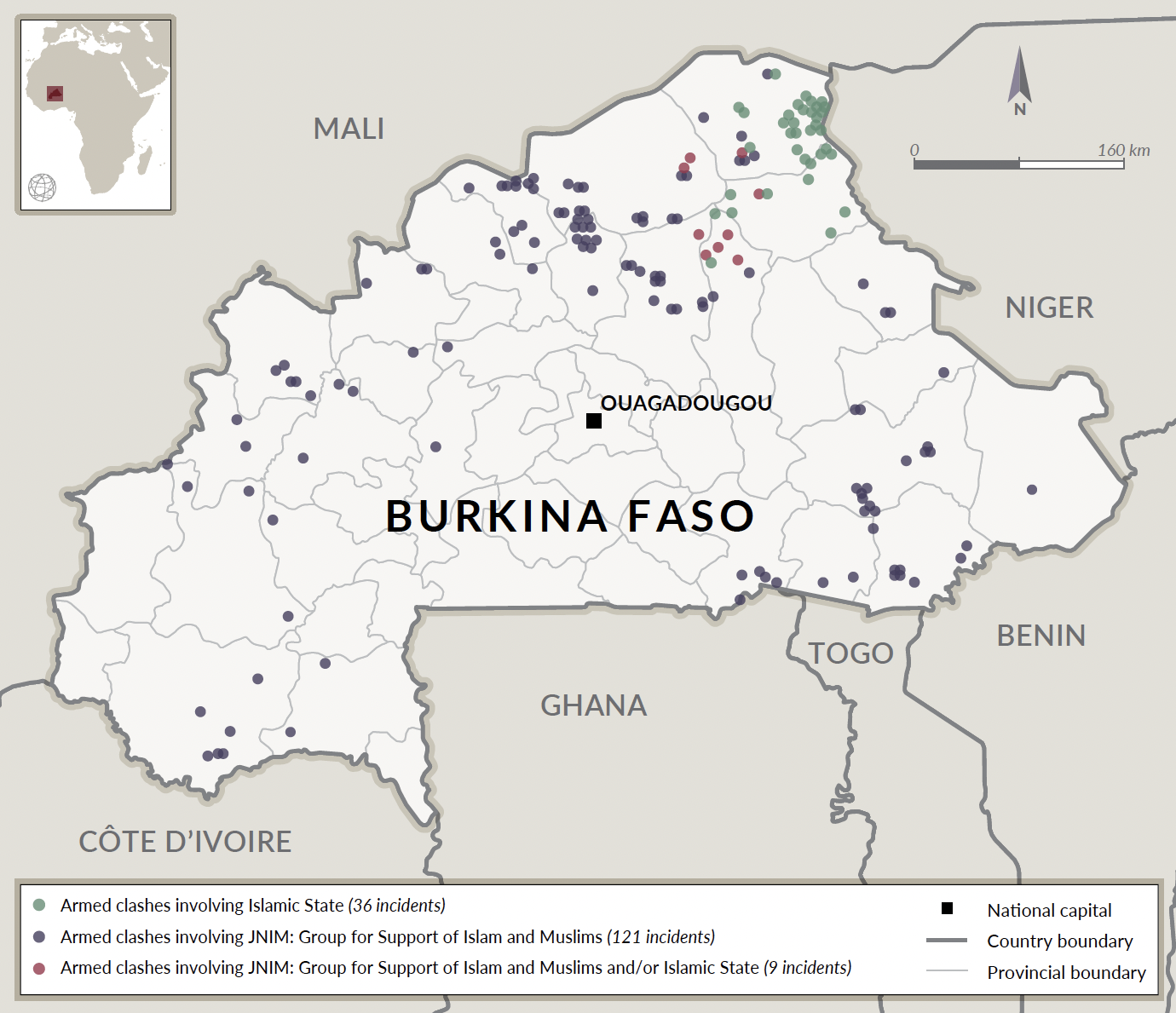 This report aims to contribute to the growing study of violent extremist and criminal actors who share operational spaces, and whose activities overlap, by showing that these groups engage in criminality for reasons beyond mere self-financing. Certainly, in the case of JNIM, its engagement with illicit economies lies at the centre of its governance strategy. By facilitating the existing illicit activities of local communities, and by opening up illicit economies to new demographics, JNIM has won the acceptance and support of many residents across its regions of influence. Indeed, many residents have become invested in maintaining JNIM's presence in the area and support them with material contributions, information and other logistical help. While JNIM can also be very violent towards civilians, it often directs this violence along the lines of pre-existing communal tensions, helping to entrench support within one side even if it alienates another. This report begins by considering JNIM's evolution in Burkina Faso and how criminal activity has formed an important part of its development. It then examines JNIM's relationship to illicit activities in which it is directly implicated (kidnapping and vehicle theft) and indirectly implicated (smuggling and gold mining) by facilitating or managing access.
---