The Global Initiative Against Transnational Organized Crime and Poseidon – Aquatic Resource Management Ltd. are pleased to announce the launch of the IUU Fishing Index, a tool designed to provide a better understanding of illegal, unreported and unregulated (IUU) fishing worldwide.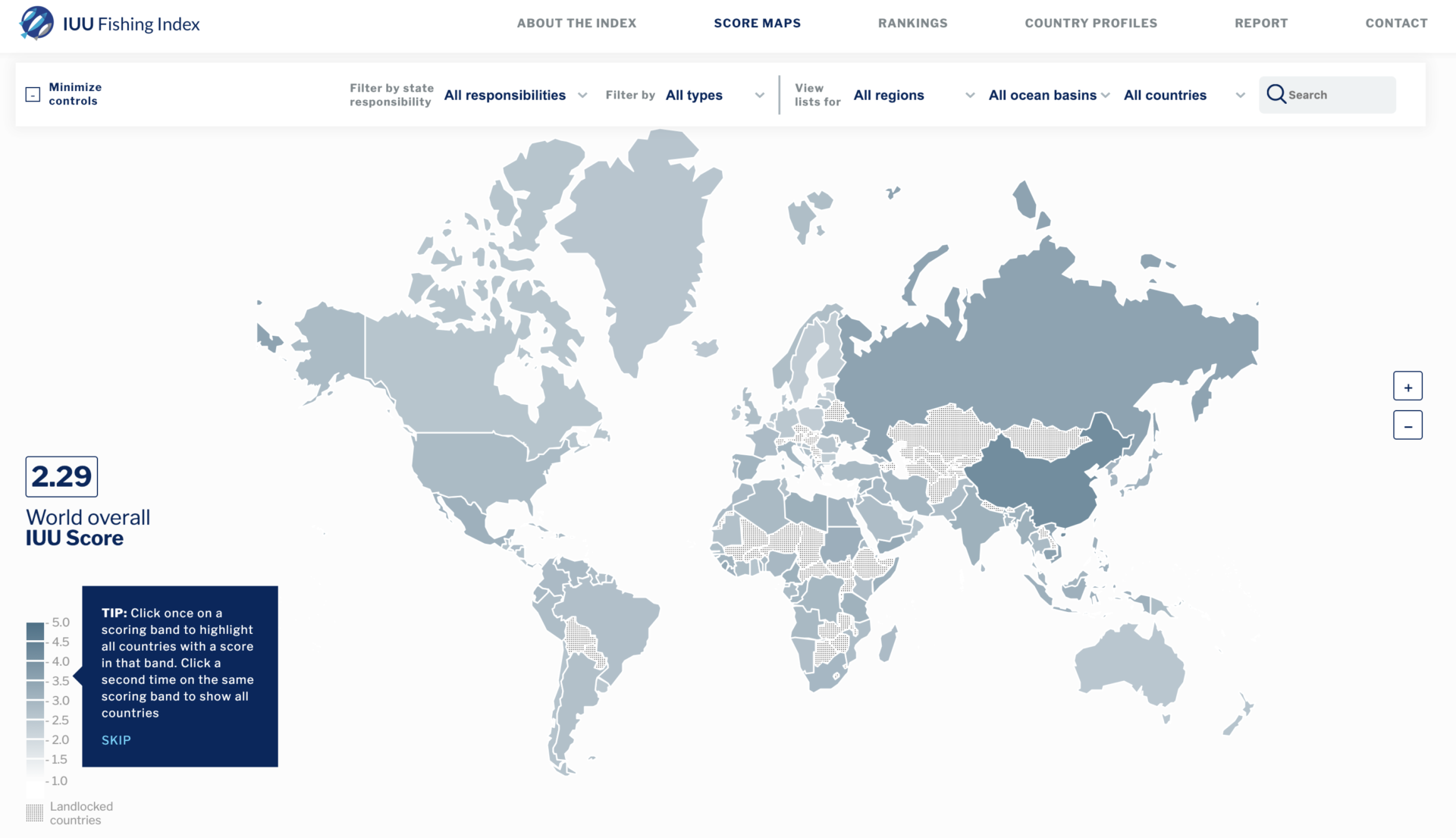 The IUU Fishing Index has been designed to meet the need for a detailed analysis of fishery countries' vulnerability, exposure and responses to IUU fishing. It fills a key gap by analyzing and evaluating, state by state, the global implications of IUU fishing, thereby helping policymakers identify where interventions are most needed.
IUU fishing is a major threat to ocean ecosystems worldwide, undermining efforts to sustainably manage global fisheries and effectively conserve ocean biodiversity. It is also a significant economic and social disruptor, is detrimental to the legal fishery trade and has been linked to organized crime. The depletion of fish stocks through IUU fishing threatens global food security, along with the livelihoods of some 40 million people who are employed worldwide in capture fishing alone, plus millions more in associated industries.
'IUU fishing is also often found to be associated with many other forms of transnational organized crime, such as human trafficking, drug trafficking and piracy, not to mention the exploitation of weak and corrupt elements of national management regimes.' 

Tuesday Reitano, Deputy Director, Global Initiative
However, a robust evidence basis on levels of IUU fishing and countries' vulnerabilities is currently lacking. For example, while the UN Sustainable Development Goals commit member states to 'end overfishing, illegal, unregulated and unreported fishing' and to eliminate state subsidies that contribute to these practices (targets 14.4 and 14.6), the only indicators against which progress is currently measured are the proportion of fish stocks within sustainable levels and states' implementation of international instruments aiming to combat IUU fishing. Neither of these is sufficiently wide-ranging nor a direct measure of IUU fishing levels. This poses a major problem for those in government, regional fisheries management organizations, donors and civil society in seeking to identify where interventions are most needed, and how states' performance measures against others.
In order to fill this evidence gap, we have developed the IUU Fishing Index, which benchmarks countries' vulnerability, prevalence and response to IUU fishing, based on a suite of 40 indicators. Scores (1 = best-performing; 5 = worst-performing) are provided at country, regional and ocean basin levels, and can be filtered by indicator.
The scores from the Index yield both expected and unexpected results. While Belgium came out with the most favourable score for all indicators combined (1.43), China fared worst, with an overall score of 3.93. On indicators that measure vulnerability, many developing countries in Africa, Asia and Oceania are highlighted as areas of concern, primarily because they lack state resources to fully respond to the threats posed by IUU fishing. However, several industrialized countries also scored as vulnerable thanks to extensive fishing infrastructure requiring sophisticated regulatory capacity. By region, Asia displays the poorest scores in terms of prevalence of IUU fishing; of the ocean basins, the East Indian Ocean has the worst score; and China, Taiwan – Province of China, and Cambodia all perform especially poorly. Countries from other regions and ocean basins scoring badly include Russia and Panama. Europe and North America score best on measures of response to IUU fishing, but Oceania also performs well, highlighting the high priority given to fisheries by countries and regional institutions. The five best- and worst-scoring countries in each category, and overall, are outlined below:
| | | |
| --- | --- | --- |
| | 5 best-scoring states | 5 worst-scoring states |
| 1  | Belgium (1.43) | China (3.93 |
| 2 | Latvia (1.57) | Taiwan, Province of China (3.34) |
| 3 | Estonia (1.67) | Cambodia (3.23) |
| 4  | Finland (1.67) | Russia (3.16) |
| 5 | Poland (1.68) | Vietnam (3.26) |
The findings from the Index provide a strong indication that the SDG target 14.4 – to end IUU fishing – will not be achieved if current levels of fishing governance/management prevail, and that combating IUU fishing therefore remains a huge global challenge.
' The Index fills a critical gap in knowledge about the performance of countries, as assessed against a wide range of indicators. The Index provides a wealth of data at country, regional and ocean basin level and that we hope will stimulate the action that is urgently needed to combat IUU fishing.' 

Graeme Macfadyen, Director, Poseidon
The development of the IUU Fishing Index was funded by the Norwegian Ministry of Foreign Affairs.