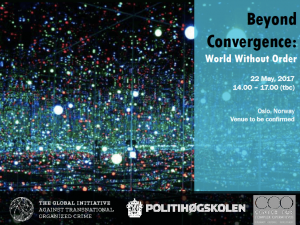 22 May 2017, 14.00 – 17.00 (tbc) – Oslo, Norway, Venue to be confirmed
The last 10 years have witnessed "the emergence of a highly adaptive and parasitic alternative ecosystem, based on criminal commerce and extreme violence, with little regard for what we commonly conceive of as the public interest or the public good".

What are the consequences of such an emerging criminal ecosystem on national security, state fragility, and overall global system of states?
The Global Initiative and the Norwegian Police University College have the pleasure of hosting editors and authors from the much acclaimed National Defence University publication, Beyond Convergence: A World Without Order for an engaged debate on the future of non-traditional security threat.
The event will feature:
Michael Miklaucic, Director of Research, NDU (editor and moderator)
Nils Gilman, Chancellor, Uni of Berkley (author of Chapter 2: "Twin Insurgencies: Plurocrats and Criminals")
Mark Shaw, Director, Global Initiative (author of Chapter 13: Protection Economies, Financial Flows, and Violence")
Tuesday Reitano, Deputy Director, Global Initiative (co-author of Chapter 11: "Virtually Illicit: social media in a hyper-connected world")
Haavard Magne Recksten (respondent, Norwegian Police College)