'It seems they have found a way to get the stuff from Russian occupied territories into Ukraine through the front line – and it's in the order of tonnes,' explained a Ukrainian police officer in early May 2023.
The officer was referring to the activities of a drug ring known as Khimprom, which, according to the police, is a Ukrainian–Russian outfit, and which reportedly plays a major role in trafficking synthetic drugs and precursors to the front line. Among these is alpha-PVP – street name 'flakka' – a highly dependency-forming drug of the synthetic cathinone class, a category of stimulants referred to as new psychoactive substances. According to Ukrainian police, flakka trafficked by Khimprom has been spreading fast across the country recently, including to the front line.
Alpha-PVP is not new to the region. Until around five years ago, it was smuggled into Ukraine from Western Europe by post in small parcels of up to 5 grams. It was also marketed on the Russian dark web. More recently, the supply and marketing shifted as Khimprom installed manufacturing laboratories to boost availability of flakka locally. In July 2019, Ukraine's security service, SBU, dismantled a lab near Kyiv capable of producing 200 kg of the substance per month, and the authorities subsequently arrested six Ukrainians involved in the manufacture and sale of the drug, shedding light on their production and distribution methods.
Since the 2019 lab bust, Ukrainian authorities have reported an increasing number of improvised kitchen-type micro-labs and flakka storage facilities across the country. In October 2020, police searches led to the discovery of a laboratory run by Khimprom, where alpha-PVP was being manufactured, as well as a network of warehouses and call centres that processed orders. SBU estimates indicate that they seized over 50 kilograms of flakka, almost 10 kilograms of amphetamine, 500 litres of precursors and drug manufacturing equipment.
Alpha-PVP – full name alpha-pyrrolidinovalerophenone  –  a designer drug, first emerged in the US two decades ago. For users, it generates an intense feeling of euphoria followed by an equally powerful comedown, with symptoms consisting of fatigue, depression, paranoia, hallucination and suicidal instincts. According to the National Institutes of Health, it is as potent as methamphetamine and has a high propensity for the development of addiction. Considering that its effects last for just three to five hours, users who are particularly sensitive to the withdrawal effects become highly dependent, and typically smoke, snort or swallow the drug several times a day. Back in 2015, Chinese-made flakka's deadly effects were heavily reported in the media in the US, where doctors and rehab directors dubbed it the 'devil's drug'. It is cheap and dangerous: 60 users died from overdosing in less than 14 months in Florida alone.
Following highly publicized overdoses and fatalities, its popularity waned in the West. In Ukraine, conversely, flakka started to be increasingly consumed from around 2017. Today, the war in Ukraine does not appear to be putting the brakes on supply: if anything, demand is increasing across the country, and particularly among military personnel. In the first six months after the invasion, Ukrainian law enforcement initiated probes into drug trafficking at the front line. Within military units where drug consumption was observed, soldiers predominantly used cannabis, but flakka was also easily obtainable.
In April 2023, law enforcement officers conducted a special operation, as a result of which alleged members of Khimprom were detained. During searches carried out with the support of special forces, police seized 3.5 kg of alpha-PVP, almost 400 litres of precursors and laboratory equipment.
According to user reports in Ukraine and Romania, flakka appears to be a preferred drug locally, as its effect is perceived to be more intense than synthetic drugs available at the same price, such as amphetamine, and it is priced significantly lower than other synthetic drugs, such as methamphetamines and MDMA. In Ukraine, drug suppliers have found a way to meet local demand for a strong and affordable stimulant, whose price has remained stable.
Inevitably, this will have an impact on how public health responses to use of alpha-PVP and other illicit drugs will be designed. In Ukraine, besides efforts to maintain the delivery of opioid substitution therapy supported by UNAIDS, very little is currently being done to address the consequences of new psychoactive substances on users' health. Monitoring the impact of the conflict on drug trafficking and consumption will be needed to assess the risk of drug abuse, as will steps to provide effective health and rehabilitation programmes for drug users, taking into account the particular psycho-social needs of soldiers facing the traumatic impacts of a drawn-out war.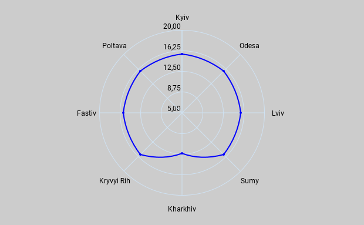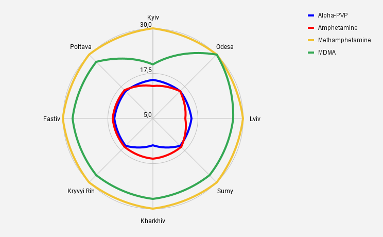 Despite the police operations and lab seizures, the precise extent of flakka production in Ukraine remains unknown, although fieldwork and ongoing investigations strongly suggest that, thanks to the labs set up across Ukraine, Khimprom seems to play a progressively important role in the supply. The longer it takes to ship a drug to its destination market, the higher the cost. Khimprom has seized a marketing opportunity in Ukraine by bringing the supply closer to the demand.
Reports of Russian intelligence attempts to blame Ukraine for Khimprom's presence first started emerging in 2017. Indeed, growing levels of flakka use in both Ukraine and Russia are increasingly being seen through a geopolitical lens, with both sides to the conflict alleging that drugs have become a tool of war.
At the heart of this drug phenomenon is Khimprom, but given efforts made by both Russian and Ukrainian law enforcement to dismantle the group in previous years, the conclusion that synthetic drugs have now become a political tool seems disingenuous. The reality is more likely to be financial and opportunistic. The war has modified the criminal economy in contrasting ways. In some respects, the fighting has disrupted criminal ecosystems in Ukraine; in others, it has been a catalyst for illicit flows, including synthetic drugs, to the extent that the authorities in Kyiv have become concerned about growing drug use among soldiers, with products in ready supply. Khimprom appears positioned to straddle Russian and Ukrainian underworlds and target new customers, including soldiers and other users in Ukraine who are looking for a cheap, powerful alternative to other synthetic drugs, which seems to offer users some temporary psychological respite from the trauma of invasion.
Throughout history soldiers have used drugs, sometimes to fight better or to stay alert, or perhaps to help cope with the extreme psychological situation and trauma they are faced with. The current conflict in Ukraine is no different.
Concerns around this led to the Ukrainian parliament passing a new law that authorizes random drug and alcohol tests on soldiers. Organized crime is nothing if not adaptable, even in this most extreme environment. The soldiers fighting to protect their homeland represent a new and relatively wealthy market, ripe for criminal networks to exploit. And they are doing just that.
So who is behind this market? This is a story about war, drugs, the darknet and corruption.
Speaker(s):
Ted
Sasha
Additional Reading:
(GI Paper) New front lines: Organized criminal economies in Ukraine in 2022
Business Insider - Russian lawmakers baselessly claim their army is up against biologically modified Ukrainian super soldiers
LiveScience - Nazis Dosed Soldiers with Performance-Boosting 'Superdrug'
History - G.I.s' Drug Use in Vietnam Soared—With Their Commanders' Help
The Atlantic - The Drugs That Built a Super Soldier
Journeyman Pictures - Sierra Leone's Cocaine-Drugged Child Soldiers
Global Initiative Against Transnational Organized Crime - Lebanon's role in Syria's Captagon trade
Washington Post - Zelensky takes on Ukraine's top internal enemy
Legatum Institute - Looting Ukraine: The East, the West and the Corruption of a Country (Full Version)
Transparency International - Corruption Perceptions Index
US DoJ Press release - Justice Department Investigation Leads to Shutdown of Largest Online Darknet Marketplace
Chainalysis - OFAC Sanctions Hydra Following Law Enforcement Shutdown of the Darknet Market, As Well As Russian Exchange Garantex
National Institute on Drug Abuse - Synthetic Cathinones ("Bath Salts") DrugFacts
UNIAN.info - SBU busts major drug lab in Kyiv region in raid against local branch of int'l drug cartel
Kyiv Post - Authorities bust cocaine hidden in banana freight container in Odesa port
The Institute of Psychiatry, Forensic Psychiatric Examination and Drug Monitoring of the Ministry of Health of Ukraine - Report on drug situation in Ukraine 2020
Kyiv Post - NABU to serve notice of suspicion on SBU Deputy Chief Demchyna
Slate - Ransomware Goes to Business School - Good customer service has become a key part of a lucrative scam
US DoJ Press Release - Colorado Man Sentenced to 11 Years in Prison for Moderating Disputes on Darknet Marketplace AlphaBay
News.pn - Chopped fingers, millions of dollars and gold bars »: SBU told details about the largest drug cartel
Служба безпеки України (SBU) - CБУ блокувала діяльність «підрозділу» міжнародного наркосиндикату «Хімпром» (SBU blocked the activities of the "unit" of the international drug syndicate "Khimprom")
Forbes - The U.S. And Allies Go After Crypto Exchange And Russian Money Laundering
Organized Crime and Corruption Reporting Project (OCCRP) - Dubai Uncovered: Data Leak Exposes How Criminals, Officials, and Sanctioned Politicians Poured Money Into Dubai Real Estate
SBU - ДБР жорстко протидіє спробам розповсюдження наркотиків в прифронтових районах
Artwork by Paulina Rosol-Barrass