In this issue, we begin with the profile of a hotspot of organized crime, Cetinje, a small city in Montenegro. Although, strictly speaking, not a hotspot of organized crime, the city seems to be an incubator of criminals. We explore why Cetinje is criminogenic.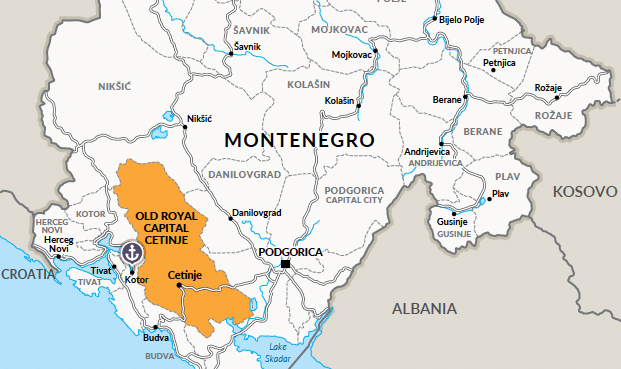 1. A small town in Montenegro has a big reputation for crime as the place of origin for many of the country's criminals.
Several factors may help explain the criminogenic nature of Cetinje. One is socio-economic vulnerability: with the disintegration of Yugoslavia, large factories closed and many workers lost their jobs. Another factor contributing to Cetinje's ties to Montenegro's criminal landscape could be political. One of the biggest employers in the city is the public sector and, as a result, public servants are dependent on whoever rules the city.
2. Despite the closure of the Balkan route, efforts are intensifying to stop migrant smuggling through Bosnia and Herzegovina.
Despite the much-touted 'closure' of the Balkan route for refugees and migrants in 2016, there is still a steady flow of people moving through the Western Balkans trying to enter the EU via Croatia or Hungary. We look at the current situation in Bosnia and Herzegovina, which has become a key transit point for refugees and migrants, and highlight some of the reasons why migration patterns seem to be changing.
3. Where are the women? Gender and migration in the Western Balkans.
In this article we question why so few women are making the migration journey through the Western Balkans, and analyze selected gender-based risks that migrants face in the region. This is partly the conscious choice of families who consider young men to have a higher chance of success, but is also often a reflection of gender roles within the societies that people are emigrating from.
4. As part of Albania's judicial reform process, a special institution seeks to fight organized crime and corruption in the country.
In this exclusive interview, we speak with Arben Kraja, Chief Special Prosecutor of the Special Anti-Corruption and Organized Crime Structure (SPAK), a key body in Albania's fight against organized crime and corruption.
5. Stubbing out cigarette smuggling in Montenegro?
In the past, Montenegro has been a notorious hub for cigarette smuggling. But the new government has pledged to clamp down on this illicit trade and has already taken some steps in this direction. We look at the problem, recent developments, and what further actions are needed.
6. Reducing vulnerability to loan sharking in Serbia.
As always, we conclude with a profile of a civil society organization that is working to strengthen resilience to organized crime in the Western Balkans. In this issue, we talk with Milan Stefanović, executive director of PROTECTA, about loan sharking in Serbia and what his organization is trying to do about it.
---