The 6th issue of the Risk Bulletin produced by the Civil Society Observatory to Counter Organized Crime in South Eastern Europe, starts off with a profile of a hotspot of organized crime in the region, this time the little-known town of Gornji Vakuf-Uskoplje in Bosnia and Herzegovina. There have also been several significant operations against organized crime in some countries of the Western Balkans, leading to a number of arrests. The situation in Serbia has taken a few twists and turns, including a smear campaign against a group of investigative journalists by some tabloids and politicians, which the GI-TOC has condemned.
1. A trafficking hub in the middle of nowhere
Gornji Vakuf-Uskoplje is a small town in Bosnia and Herzegovina. It is a logistics hub, close to major highways, makes it a strategically placed yet inconspicuous hotspot for trafficking. The town has become a drug-trafficking hotspot, which shows the significance of logistics hubs in supply chains and links between the licit and illicit economies, as well as connections between business, political and criminal elites.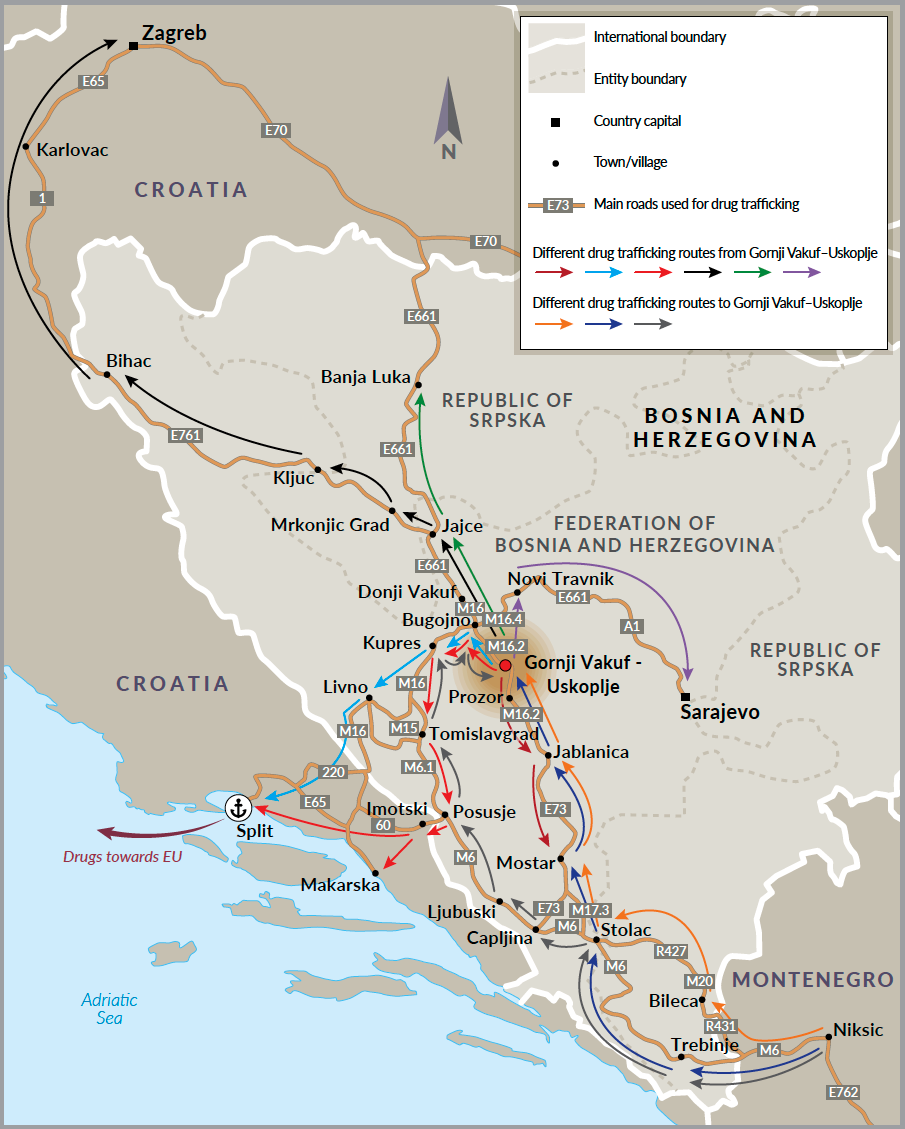 2. A crackdown on organized crime in the Western Balkans?
In a series of arrests in January and February 2021, police in Serbia, Montenegro and Bosnia and Herzegovina took down criminals that the media allege have links to the notorious Kavač and Škaljari criminal clans from Montenegro. Police in North Macedonia arrested six people in Prilep, the country's fourth-largest city, on drug-related charges. Are we witnessing a crackdown on organized crime in the Western Balkans?
3. The vulnerability of Roma children to commercial sexual exploitation
Commercial sexual exploitation of children (CSEC) is a serious concern across the Western Balkans. Roma children constitute a particularly vulnerable group. Drawing on information from a forthcoming GI-TOC report, we look at why Roma children are so susceptible and how the problem manifests itself, both within the Western Balkans and in other parts of Europe.
4. The 'hawks' of Kurbin: a school of thieves
In recent years, break-ins and thefts at the homes of football players and celebrities have made the headlines in Spain and Italy. Many of the perpetrators are young men who come from the same region, namely Kurbin in Albania.
5. Youth as the engine of the community: an interview with Sebastia Youth Centre
The municipality of Kurbin, centred around the town of Lac, has developed a reputation in Albania and abroad for being a finishing school for burglary. To address this problem, a young lawyer and a local teacher teamed up to establish the Sebastia Youth Center, a CSO that aims to counter stereotypes and give youth a platform for a better life.
---