Organized crime in the gold trade – focusing on Kenya in particular – is the topic of two of the four articles in this issue of the Risk Bulletin of Illicit Economies in East and Southern Africa.
1. Sodium cyanide in Kenya's gold market: controlling a toxic chemical in the context of criminality and corruption.

Sodium cyanide has increasingly become the chemical of choice for processing gold ore in Kenya, as it allows more gold to be extracted from low-grade ores than do other methods. While this could be an opportunity for Kenya's gold sector, criminality and corruption are instead turning it into a risk.

2. What the proliferation of fake-gold scams tells us about regulation, corruption and criminality in East Africa's gold market.
Fake gold scams have become a prolific problem in East Africa's gold market. The scams are run by criminal networks operating in Nairobi and Kampala, with connections in South Sudan and the Democratic Republic of Congo (DRC). The case of Lual Lawrence Malong Yor, a flamboyant South Sudanese businessman who was jailed in Uganda last year for masterminding a million-dollar scam, illustrates the workings of the scams.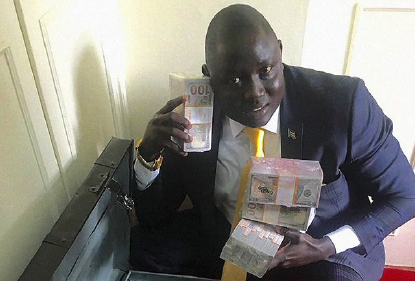 3. Illicit economies in Mozambique's embattled Cabo Delgado: answering the key questions.
The jihadist conflict in Cabo Delgado, northern Mozambique, shows no sign of abating. The region has long been a key economic corridor for illicit flows that traverse the East African coast, including drug trafficking (chiefly of heroin and, more recently, methamphetamine and cocaine), illicitly exported timber, smuggled gems, and gold.
4. How sensationalism around the emergence of 'new' drugs can distort perceptions of the drug market and have a real-world impact on policing and prosecutions.
Media reporting and public discourse about illegal-drug markets have a universal tendency towards sensationalism. Speculative reporting about drug markets can muddy the waters, making identifying genuine new drug trends more difficult.
---
The stories in the Risk Bulletin are drawn from GI-TOC's network of analysts and researchers, who form the basis of our Civil Society Observatory of Illicit Economies in Eastern and Southern Africa, which has hubs in Nairobi and Cape Town.
Subscribe to the GI-TOC East and Southern Africa mailing list to stay updated on our upcoming publications and initiatives.
Episode 32 - The "Young Tycoon" and Fake Gold Scams in East Africa