The Global Initiative Against Transnational Organized Crime was conceived from a series of closed-forum dialogues with thirty senior law enforcement officials, representatives of multilateral organisations, development practitioners and policymakers, hosted by the International Peace Institute (IPI) in 2011-12.
At these meetings, the Founding Members of the Global Initiative who stand at the front line of the fight against organized crime, illicit trafficking and trade described a situation where the challenge was unprecedented and poorly understood, and for which current tools seemed inadequate for the task. The problem and its impacts are not well analyzed; they are not systematically integrated into national plans or strategies; existing multilateral tools have not been adapted and frequently fail to provide a sufficient return on the investment.  While there have been some successes, these are not enough to claim that our responses are catching up with organized crime.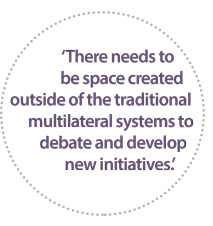 In their view, existing forms of cooperation tend to be bilateral, slow, and restricted to a limited number of like-minded states.  What is required is a more strategic and proactive global approach to counter transnational crime and trafficking. This is not only a law-enforcement responsibility. A "whole-of-government" and a more holistic approach is needed at a time when policymakers are increasingly seeking new ideas to inform their responses.  Instead, there needs to be space created outside of the traditional multilateral systems to debate and develop new initiatives with a wide range of engaged stakeholders and experts.
The participants in these meetings called for a network of experts to be created which would allow for a critical debate of challenges and serve as an incubator for new integrated strategies. Such networks should consist of experts from a range of thematic disciplines. They should not be constrained by institutional parameters, but should coalesce around common areas of experience such as law enforcement, development, media, the Rule of Law, research and policy development, or cybercrime. Their scope should be global, there should be effective coordination, they should be non-bureaucratic, able to respond rapidly, and consist of experts from all regions.
It was with this vision, with the commitment and dedication of the participants of the meeting that the Global Initiative Against Transnational Organized Crime was born.  For a more detailed account, please read the Foundation Document of the Global Initiative "A Network to Counter Networks".